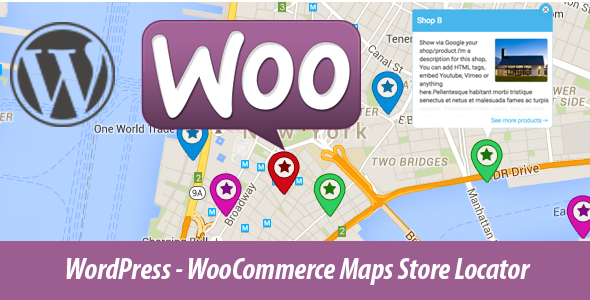 WordPress – WooCommerce Maps Store Locator
Is an extremely advanced mapping system that makes it easy for your customers/visitors to find your store, location real estate – buy, sell or rent a Home, Restaurant, Events… on Google Maps.
Give your potential customers more information by showing that your items for buy, sell or for rent everywhere and even near their location.
Easy to show your single products which is available in shops marked, create multiple markers, easy to custom marker icon, info window, filters, and more.
Single Product on Map
Features:
Compatible with both WordPress and WooCommerce.
Show your store, location real estate – buy, sell or rent a Home, Restaurant, Events…on Google Maps.
Days of operation and Hours of operation for the Stores.
Show your single product which is available in store marked on Google maps.
Create multiple makers – custom marker icon.
Provide to and from directions on GPS enabled devices.
HTML for the popup info window, easy to embed video…
Unlimited colors.
Zoom scroll control.
Flexible Configuration.
Full Documentation Included.
Easy to use.
And much more…
Change Log:

1 June 2021 - 2.1.2:
 - Improvements and bug fixes

11 Apr 2020 - 2.1:
 - Improved: WooCommerce 4.0 compatibility

20 March 2019 - 2.0.8:
  - [Added] Days of operation for the Stores
  - [Added] Hours of operation for the Stores
  - [Added] Option to Enable "DT Map Marker". This plugin support for WooCommerce by default. Enable DT Map Marker to use without WooCommerce.

08 October 2018 - 2.0.7:
  - [Fixed] Single Product Map Shortcode Ignores Global Settings
  - [Added] Option to enter Google API Key

23 February 2018 - 2.0.6:
  - [Fixed] the Info Window style

Ver 2.0.5
  - [Fixed] Roadmap does not work.

Ver 2.0.4
  - [Updated] Google Maps API
  - [Added] Data sample

Ver 2.0.3
  - [Updated] Compatible with Visual Composer Page Builder

Ver 2.0.2
  - [Improved] infowindow close button
  - [Added] Zoom level option
  - [Improved] Ability select more categories for markers
  - [Added] shortcode [dt_woo_single_product_map] to display single product on map.
  - [Updated] documentation

Ver 2.0.1
  - [Fixed] The "Get Directions" does not work.

Ver 2.0.0
  - [Added] WordPress Custom Post type [maps] Support!
  - [Added] include Property to limits the results to the specified categories.

Ver 1.0.0 (26 September 15)
   - Initial Release

TicketBox – Event Tickets WordPress Theme