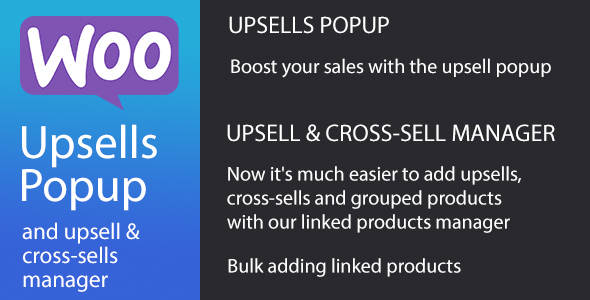 This plugin contains two related product features:
– Upsells Popup
– Linked Products Manager (Upsell, Cross-sells and Grouped products)
Upsells Popup
After adding an item to the cart, a pop-up window appears with an upsell.
Features
Increasing sales of your online store
Draws attention to the products you would like to sell in the first place
Compatible with most themes and plugins
Improves the behavioral factors on the site, useful for SEO
Supported languages: English and Russian
Supported WordPress 4.7 – 6.0
Supported WooCommerce 3.6.2 – 6.6
Video demonstration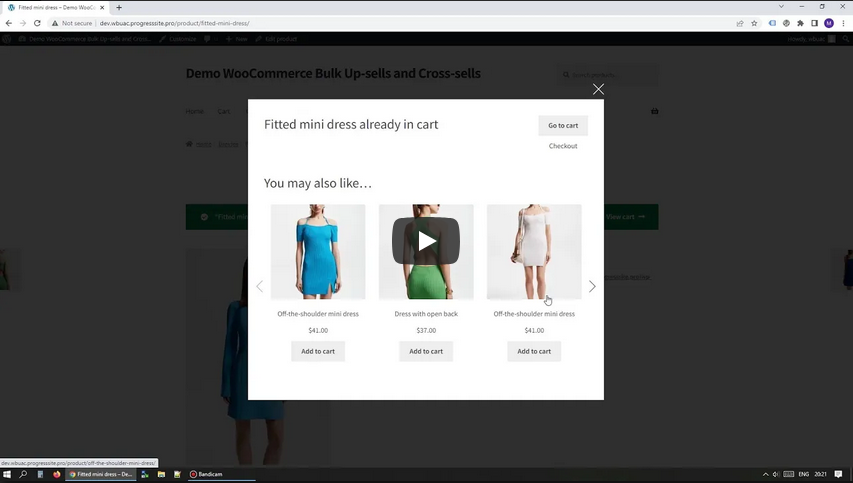 Bulk Linked Products (Upsell, Cross-sell, Grouped)
This plugin allows you to easily and quickly add upsells, cross-sells and grouped products.
Do not wait for the search for a product, just select its category and add a Up-sells and Cross-sells for the item.
Features
Bulk add Up-sells for product
Bulk add Cross-sells for product
Bulk add Grouped products for product
Copying product Up-sells and Cross-sells into many other products at once
Supported languages: English and Russian
Supported WordPress 4.7 – 6.0
Supported WooCommerce 3.6.2 – 6.6
Video demonstration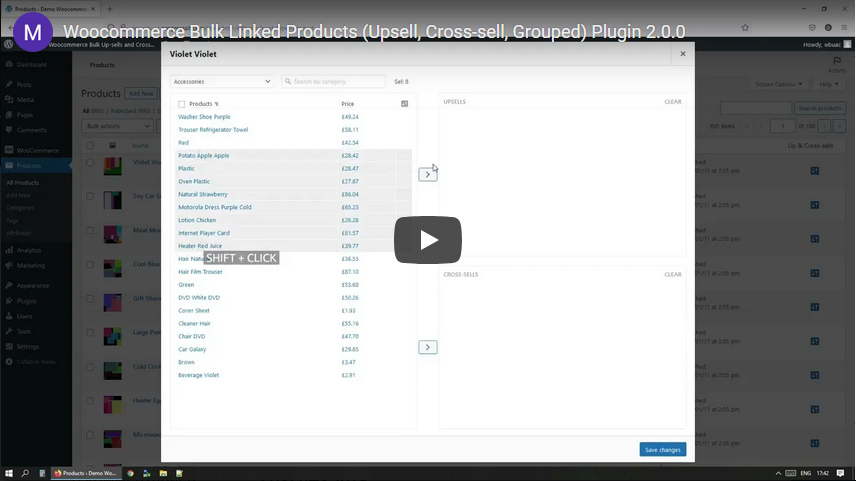 Add linked products quickly and simply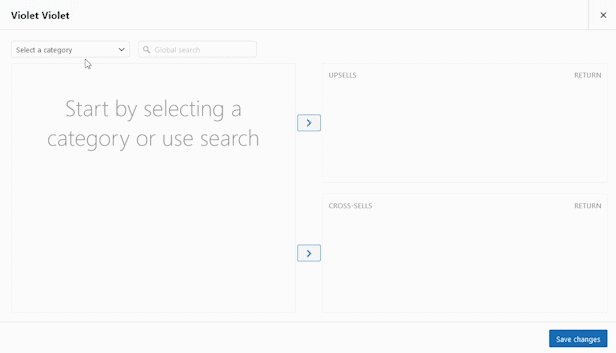 Quickly find the products you need and add them in the order you want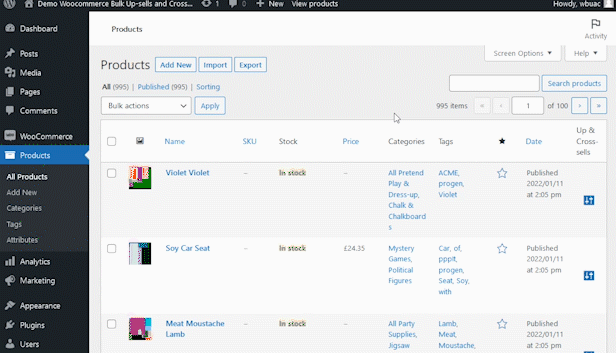 Bulk add related products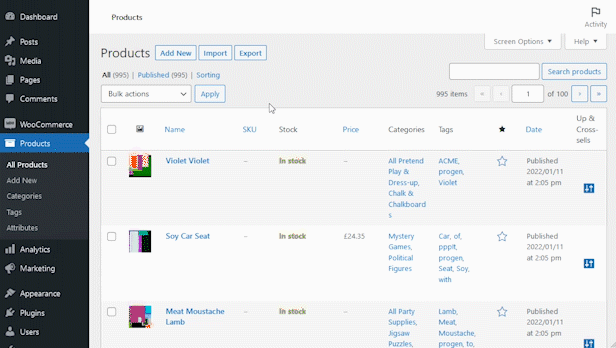 Live Demo Frontend
https://wbuac.progresssite.pro/product-category/dresses/
Live Demo Admin
https://wbuac.progresssite.pro/wp-admin
Login: demo
Password: demo
Documentation
https://wbuac.progresssite.pro/documentation/
Update History
Version 3.2.2 (July 9, 2022)
Fix
Fixed compatibility issue with Elementor
Version 3.2.1 (June 1, 2022)
New
Upsell / Cross-sell categories – now you can add entire categories to categories
Version 3.1.1 (May 15, 2022)
Bugfixes
Fixed – Another popup appeared after adding a product from the popup window if the product contains related products
Fixed – When the setting "Redirect to the cart page after successful addition" was enabled, the pop-up window did not work, now the pop-up window appears after redirecting to the cart
Version 3.1.0 (May 5, 2022)
New
Sorting products in the upsell popup:

Default – in the order in which the items were installed
Price: Low to High
Price: High to Low
Newest Arrivals
Rating
Popularity
Random
Version 3.0.0 (April 10, 2022)
New
Added new feature – Upsells Popup
Version 2.0.0 (February 27, 2022)
New
The logic of work has been completely changed, now all work takes place in the manager of related products.
Added the ability to change related products directly on the product list page, for each separately, or for selected products (Bulk Actions)
Version 1.2.0 (January 14, 2022)
New
Added the ability to display prices, availability, date of addition, rating, number of product sales.
It is possible to enable / disable these columns of product data in the settings window
It is possible to sort by these columns
Added a settings window where you can select sorting and displayed data columns
Increased the speed of adding a large number of products
Version 1.1.2 (February 22, 2021)
New
Clearing the list in one click
Now each category displays the number of products
Bugfixes
Changed the way categories are displayed to fix a bug when Gutenberg editor for products is enabled
Version 1.1.1 (January 23, 2019)
Bugfixes
Fixed a bug in the old version of WooCommerce 2.3