Elevate your Customer Experience with WooCommerce Mini Cart Plugin to use a cart in the menu or anywhere in the store!
WooCommerce menu cart plugin is a great tool to improve your customer's shopping experience by making your store's shopping cart more accessible. It works by displaying the cart in the top menu of your website. You can also use a shortcode to display the cart anywhere on your website.
It helps you make things easier by enabling a fly-out cart that shows customers all their carted items when the cursor hovers over the cart icon. You can also configure hide options so the cart remains hidden if no items are added and change the cart icon with custom images.
Main Features of WooCommerce Menu Cart Plugin
Display cart in menu of your website
Option to show mini cart when customers hover on the cart
Show Cart in header, footer or any page using shortcode
Multiple options for displaying cart & flyout
Choose from 13 cart icons or upload your custom cart icon
Display Cart in Menu of Your Website
WooCommerce menu cart plugin lets you display the cart in the menu of your website. You have Options to choose the menu from the back office if your site has more than one menu.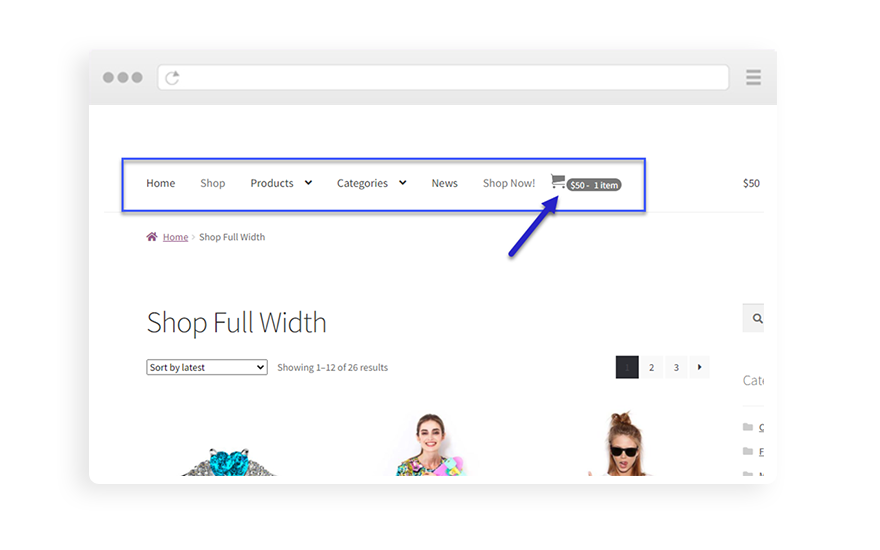 Fly-out or Mini Cart in Menu
WooCommerce mini cart provides the option to display flyout or mini cart in the menu when customers will hover on the cart icon. You can set the number of characters for products and the number of products to display in the flyout cart.
Offers 13 Types of Cart Icons or Choose Custom Icon for Cart
You have a choice to select from 13 types of cart icons that suit you best, or you can also upload custom cart icons for your website.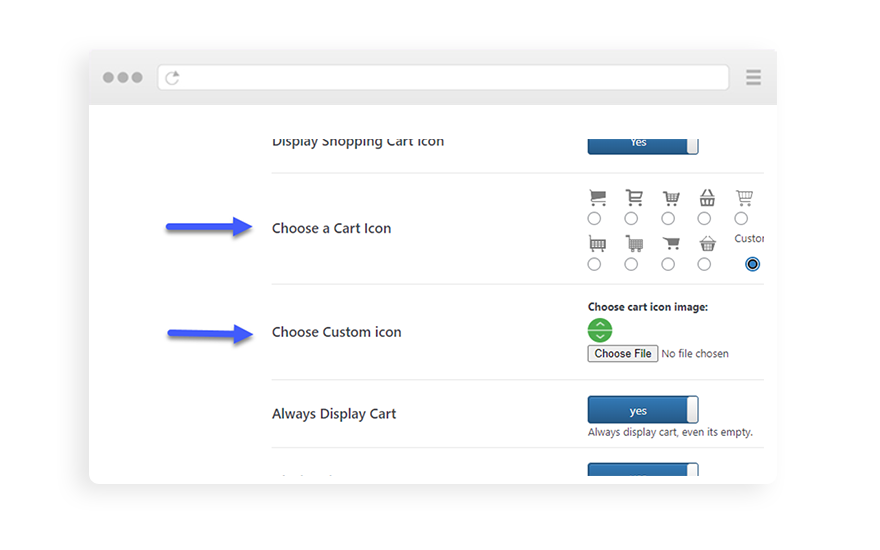 Shortcode to Display Cart Anywhere in Website
WooCommerce mini cart plugin enables shortcode, which helps you to display the cart anywhere on your website, such as header, footer, product page, etc.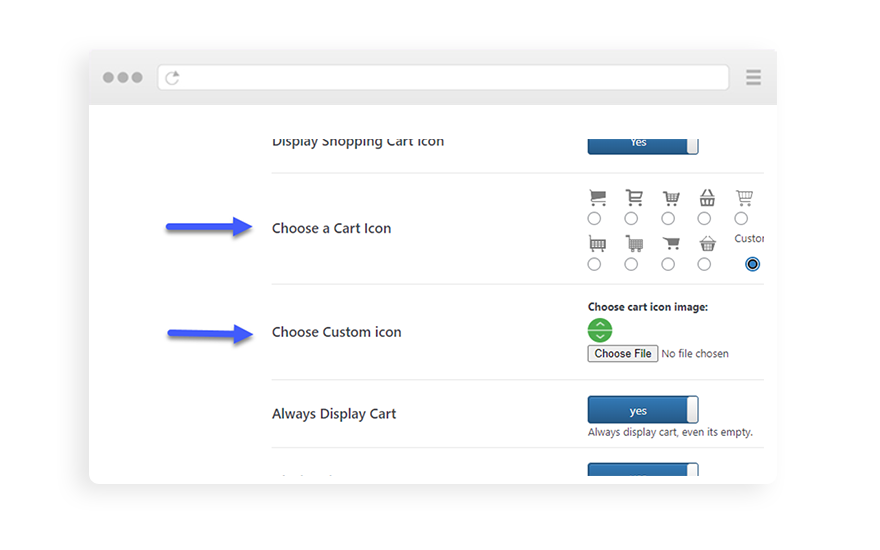 Display Cart on Left or Right Side of Menu
WooCommerce mini cart in header allows you to display the cart on the left or right side of the menu.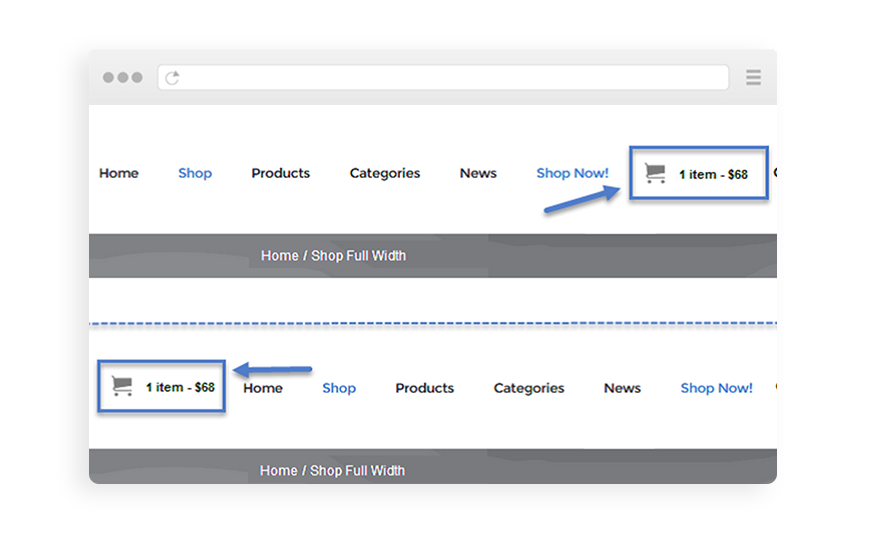 Various Option to Display Cart Icon, Items, & Price in Mini Cart
It enables various options to display a cart icon, items, and prices in the mini cart.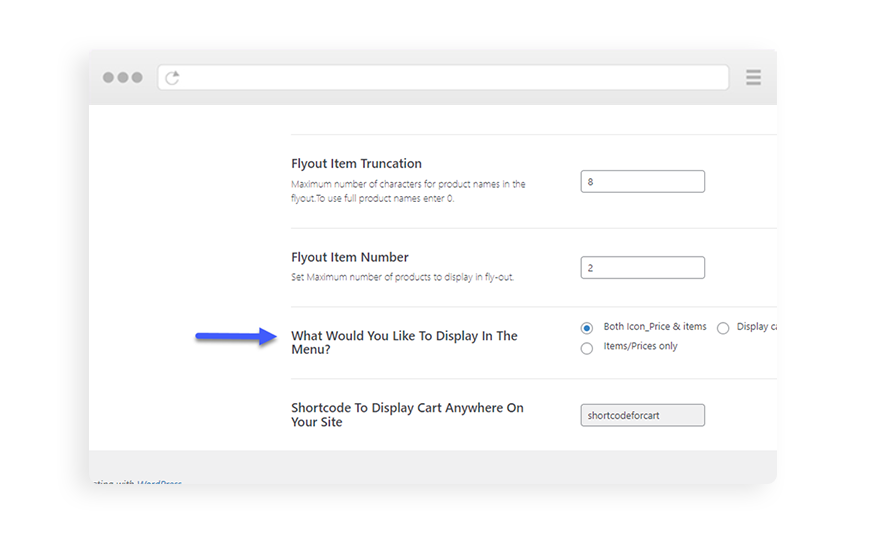 Customize Text & Links of WooCommerce Mini Cart Plugin
You can show custom text for various cart situations and customize the links for the cart and checkout buttons in the menu cart.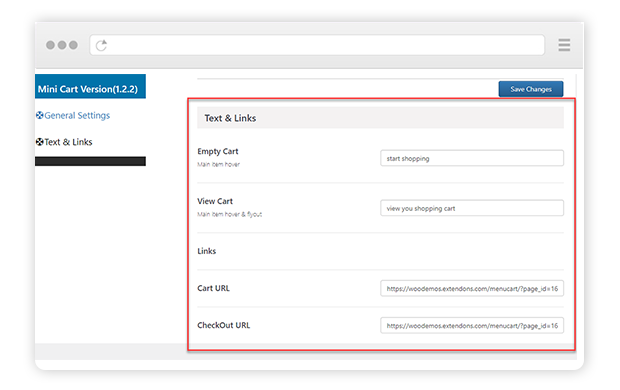 Version 1.2.4
Fixed Design Issues


Version 1.2.3
Fix CSS issues from mini cart settings


Version 1.2.2
Bugs Fixes


Version 1.2.1
Porto Theme Supported


Version 1.2.0
Fixed hover settings
Fix: Automated cart options


Version 1.1.1
Fixed some bugs for css.


Version 1.0.0
Initial Release