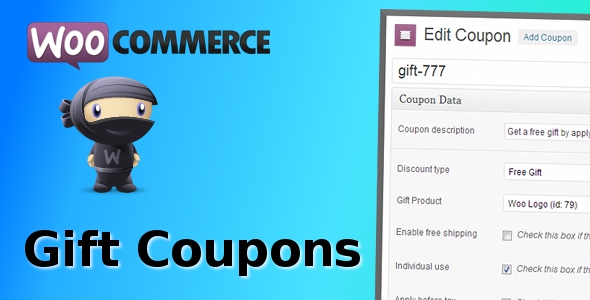 WooCommerce Gift Coupons
Create and manage gift coupons in the same way you would manage standard discount coupons.
Tested with WooCommerce 6.3 ✅
WooCommerce Gift Coupons allows for creating gift coupons to reward customers with a free gift after applying the coupon code.
There is little to configure since the extension builds on the powerful WooCommerce coupons functionality. Simply install the extension and create gift coupons straight away.
WooCommerce Gift Coupons highlights include:
The extension builds on the standard WooCommerce coupon functionality.
There is little if nothing to configure. After installing the extension you can start creating your gift coupons straight away on the standard WooCommerce coupons page.
The extension is ready to be translated to your own language by the standard WordPress localization process.
Change log:
2.0.2

Checked for compatibility with WooCommerce 5.0

2.0.1

Added support for WP Multisite.

2.0

Added support for product variations
Code optimized and modernized

1.3

Added support for WooCommerce 3.0.

1.2

Added support for WooCommerce 2.7.

1.1

Added support for WooCommerce 2.2.

1.0.4

Fixed the display of coupon type on the Coupons page.

1.0.3

The gift product is displayed on cart page as well, after applying the coupon code.

1.0.2

Compatibility with WooCommerce 2.1.

1.0.1

Fixed a bug of retaining the gift in cart, when it should have been removed in case the conditions for a free gift were not satisfied.

1.0