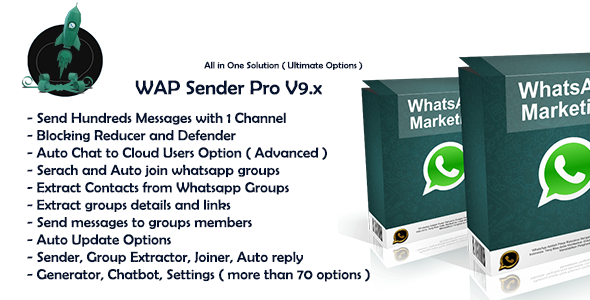 WA Sender Pro ✅ Send Unlimited Messages.
The Only Software Which Allow you to Random Between Senders Automatically

Ultimate Software Features:
1. Sending Options:
Send bulk messages to Contacts
Bulk messages To Groups.
Send Hundreds of Messages with 1 Sender Only.
Stop, Pause, And Resume Options.
Send by Bulk Forwarding.
2. Sender / Channels Options:
Add unlimited Sender Numbers.
Auto store Session for all sender numbers.
Auto Random Between senders while Sending to Reduce BAN.
warm-up channels option ( Cloud Chat ) : Your sender number Will Wutomatically talk to any online software user too, to make sender number more friendly.
Whatsapp BETA Support ( add sender one time and software will keep the session for you ).
3. Messaging Options:
Send all types of message (Text / Image / Video / Audio / Location / Links)
Auto restore Last messages and images in latest campaign.
Emoji Support.
Send Familiar message with Each client Name ( ex: Hello Magi ).
4. Blocking Defenders :
Control Sending Speed and Delay time between Messages.
Friendly channel option to keep channel sending for a long time.
Chat to cloud option to decrease blocking channel/s.
Spyntax Support ( Auto send different random content ).
5. Numbers Extraction:
Auto Extract Whatsapp Groups Members.
Save extracted Numbers to Text or to the software Main sending Menu.
Generate a list of numbers for any country
6. Numbers Generator:
Generate a list of numbers for any country.
auto fix country code for bulk contact list,
7. Filter & Validator:
Filter Whatsapp Numbers.
Use phone or emulator.
8. Groups Options:
Search Whatsapp groups with Keyword.
Auto Joining Whatsapp groups.
Extract Contacts from Whatsapp Groups.
Extract groups details and links.
9. Groups Sending Options:
Send Bulk messages to Joined Groups
Send by Adding members to a group then send message to the group
Auto remove users from Your Group after sending
10. Contacts Saver:
Save all non recorded contacts from incoming messages of your clients, no need to record each client number to your mobile, it is auto done now.
Convert any CSV file to VCF and import to mobile with just one click.
Auto remove users from Your Group after sending
11. Inboxing and Auto reply:
Inbox Feature ( Read the Client's reply ).
Auto Reply Incoming Messages.
12. Controling Options:
Global Reach: Reach your customers at any country | worldwide.
Inbox Feature: Receive any client responded to your campaign.
Sender Name and Avatar 'Logo': Control Sender name and Logo simply.
13. Reports Options:
Live Report in software.
Autosave Reports. Excel files.
Export Reports to CSV ' excel' or Text.
Help and Useful Links:
NOTE Before Purchasing:
Software Comes with a full premium annual free updates.
No source code; Ready software for installation and sending.
for special inquire please contacts us.
This software is the only in all world markets which support Random between multi senders while sending campaign Automatically