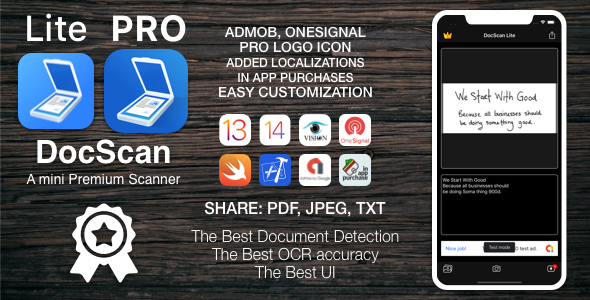 – Version: 1.0.7
– Last update: 11/07/2022

– Updated to the Xcode 13

– Updated the Google Admob tracker request for iOS 14+

– Fixed the alert crash o iPad

– Small fixes and improvements

– Previous ersion: 1.0.5
– Last update: 02/03/2021
– New Feature: Expand the screen with the recognized text, apply any changes and save by pressing done. See screenshot.
– Updated the documentation
– Small fixes and improvements

Get Android version from here:
DocScan is currently the fastest and most powerful tool for scanning documents. DocScan will turn your iPhone or iPad into a powerful mobile scanner.
You can create and manage a virtual copy of credit cards, books, checks, recipes, timetables and any paper documents by using DocScan. Quickly scan, edit, save, and share any document in PDF JPEG or TXT format.
The application supports optical character recognition (OCR) technology and allows you to extract the text from the image. It doesn't require an Internet connection, as all scans are stored locally on your device.
DocScan can process the captured from the camera images and already existing photos in the gallery. The application allows you to adjust and apply the filters for images with the built-in editor. Experiment with your documents and edit them, you can always revert to the original image. You can save your finished pictures to gallery, send by mail, message in JPEG, TXT and PDF formats.
Say goodbye to old office scanners and get this PDF scanner for your daily business needs!
High speed and quality of image processing without tedious manual corrections will make DocScan your ideal companion for business and education.
FEATURE HIGHLIGHTS:
— Scan premium quality PDFs or JPGs;
— An automatic or manual image capturing modes;
— Enhance your scans: edge detection, optimization and color corrections;
— Flash settings;
— Ability to turn on a grid;
— Fastest recognition using Vision API;
— Cloud integrations: iCloud, Dropbox, Evernote, Yandex Disk, Box, OneDrive, Google Drive, and other cloud services;
— Creating and saving the documents in colored, grayscale, black and white formats;
— High performance and stability of the application
— User friendly navigation
Scan HIGH-QUALITY:
DocScan captures the best possible image in the perfect moment.
The edges of the document are automatically identified so that only the document itself is scanned.
Scan QUICKLY:
DocScan is very quickly. Make scans with just a tap.
Scan ANYTHING:
DocScan works on all occasions with all kind of documents.
Scan to SHARE:
Scanned documents can be shared anywhere.
Share and upload scanned documents to cloud services like iCloud, Dropbox, Evernote, Yandex Disk, Box, OneDrive, or Google Drive. 
UNLIMITED ACCESS MEMBERSHIP SUBSCRIPTION
– You can subscribe for premium account with unlimited scans, premium features and no ads or any other premium features you can define by yourself
– Subscriptions are billed one time only on the subscription plan, but it can be changed with any other from iTunes app subscription.
– Payment will be charged to iTunes Account at confirmation of purchase
– Subscriptions may be canceled by the user and auto-renewal may be turned off by going to the user's Account Settings after purchase

© MisterGrizzly
View Changelog | Contact | Federal Law and Regulations | FAQ