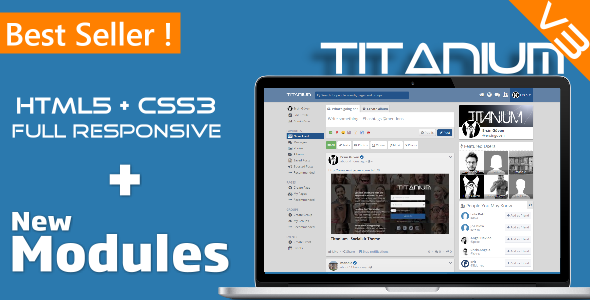 Titanium Theme are the most professional Socialkit Theme that have been ever developed !

Updates

Version v3 [19/April/2019] – Compatible with the Socialkit 2.5+
Version v2 [09/June/2017] – Compatible with the Socialkit 2.5
Version v1 [04/October/2015] – Compatible with the Socialkit 1.3.7
What is Socialkit ?

SocialKit is a Social Networking Platform that consists of various features including Live Chat, Pages, Groups, Messages, Stories, Comments, Likes, Shares, Notifications, #Hashtags, @Mentions, etc. It allows users to socialize with each other, share with their favorite community, connect with their favorite brands, artists, celebrities, and much more.
SocialKit is the fastest, most secured and regularly updated Social Networking Platform
What will Titanium Theme give you ?

These theme were developed by professional interface developer. Theme have clean and & quality design and color view. We added new fetures like "quick page management", "privacy settings button to publish box" and "custom popup modal box" and many other features !
Features

HTML5 + CSS3
Fully Responsive (Compatible with all mobile devices)
Fully Custom Modal Window
Professional & Clean & Quality Design
Multilanguage Support
Latest Font Awesome Icons Pack 4.7
Requirements:
Titanium Themes Compatible with Socialkit 2.5 and higher version. Titanium Theme updates will publishing after the Socialkit latest version stabilized.
Online Demo
Test Titanium Theme online: http://www.ersinguven.com.tr/tt/
User: test Password: test