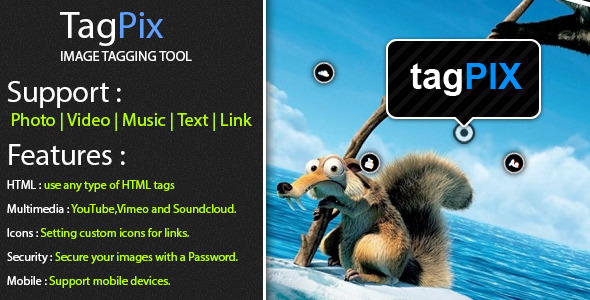 With tagPix you can tag images and create realy nice tooltips. It's pure developed with HTML/CSS/JS and don't need a Database to work. When you finish with tagging just copy/paste the outputed code. Support all mayor browsers and work also on mobile devices.
Supported Tag types
Photo : Support images, just paste the link of your image.
Video : Support video files, just paste the link of your video from YouTube or Vimeo.
Music : Support music links, just share the link from soundcloud.
Text : Support text, type anything, HTML is also allowed.
Link : Support links, just paste your link, give it a description and select a custom icon.
Features
HTML : You can use any type of HTML tags under the Text and Link section.
Multimedia : Support popular services like YouTube,Vimeo and Soundcloud.
Icons : Setting custom icons for links.
Security : Secure your images and tags with a Password.
Browsers : Support all mayor Browsers out there.
Mobile : Support also mobile devices.
Responsive : All tagged images are responsive.
Updates : Free updates all the time.
Support : Free customer support.
Suported Browsers
IE (7,8,9,10)
Firefox
Chrome
Opera
Safari
Changelog