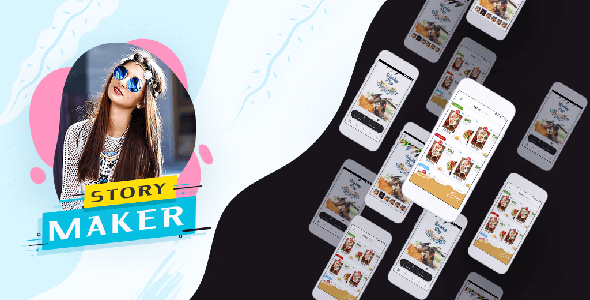 ☛ Story Maker is an app which helps you create story from your images of your precious moments like wedding, birthday, picnic, party, travel & more in few minutes. Using app you can upload photos of Stories on Instagram within few minutes.
☛ This is a free app that has lots of templates and features for you to create beautiful stories. Each template is ready to use, just select any layout and edit with our range of easy to use tools. There's nothing extra to pay to use the standard images or graphics as displayed.
☛ Now a days stories are the new trend. You can see them everywhere. They're all flooded with stories. But, not everyone has enough time to check each and every story uploaded by their friends or family members.
☛ If someone has uploaded an attractive story then we will surely spend some time having a look at it. But, how you can create a beautiful story? Well, the answer is you can download our most powerful story maker "InstaStory" to give your stories a catchy look which will make your story unique and popular!
☛ Features of Story Maker:
⋆ Templates: – 100+ Story Templates. Find the collection that fits your photo style. – Simple Stories Templates. – Forests Stories Templates. – Clean Stories Templates. – Deserts Stories Templates. – Mother's Day Stories Templates. – Candy Stories Templates. – Brush Stories Templates. – Happy New Year Stories Templates. – Christmas Stories Templates. – Valentine Day Stories Templates. – Valentines photo frame.
⋆ Fonts: 100+ fonts with advanced text tools. Set the mood of your story.
⋆ High Quality Export: Export your stories in HD resolution and sharing to social media.
☛ Just download Story Maker and create a unique story with your own lovely pics, yet so simple.
☛ Share your fabulous & superb story with friends & family via favorite messengers and social networks.
If you want more templates, we will create it for you with minimal charges, 30 templates = $100 (Include integration in your purchased source code)
Download demo APK from here:-
Any queries, please contact us on adm.enerjiktech@gmail.com