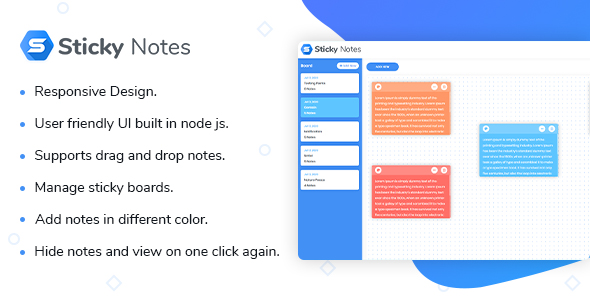 Node-Js Sticky Notes
" In the present generation, when everything, even Money is going digital, no one really prefers to write notes on paper and paste it on their desk. You have gadgets and with gadgets like mobile and desktop comes amazing Scripts, One of which is Sticky Notes.
Try our admin demo –
https://stickyboard.node.pixelnx.com/stickyBoard/
Username – demo@stickyboard.com
Password – 123456
Please check the Online Documentation for more details of the script.
Sticky notes is an Online Notes Script that is helpful for keeping your notes, tasks, schedules, meetings, and other short notes. In a working day, people are confronted with so many tasks that they tend to forget. If one has made a list of tasks to be done in a day, then that paper or slip may get lost in hundreds of papers. This simple problem can affect someone's work drastically. So, to keep a note of tasks given in a day that is available to you on your virtual screen till anytime you want, KamleshYadav has released a Script called Sticky Notes that will help you from creating a mess out of tasks and be productive.
This Script is quickly installable and is easy to approach. The design of the Sticky Notes is quite simple and easy to use. As the idea is about clearing the mess and listing out tasks and points in a simple and understandable way, the Script is also created in a way that will provide you a clear picture of "What to do" in a day. The Sticky Notes is created with User-friendly UI built-in node js. You can easily drag and drop notes on the Sticky Notes and arrange the notes on the board according to your convenience.
There is no restriction as to add notes on your Sticky Notes. You can add unlimited notes on the Board. You can arrange your notes by classifying them under personal and Job or business tasks. The procedure of adding a new note is also quite easy, You do not need to move all the way towards the menu for adding a new note. You just need to double click on the Board and a fresh note will pop-up. This Script is designed in a very colorful way. You can add notes in different colors for better understanding and creativity.
If there are some notes that you don't want on your Sticky Notes for a particular time gap than you have the facility of hiding the notes from the board. If you want the note to re-appear, then you just need to click once on the eye button at the right corner of the Notes, and the hidden note will appear again. The Sticky Notes shows the frontend errors in a very subtle and organized way.
Features
Responsive Design.
User friendly UI built in node js.
Supports drag and drop notes.
Manage sticky boards.
Add unlimited notes to a board.
Add double click to add new note.
Add notes in different color.
Hide notes and view on one click again.
Frontend errors will be shown in a subtle and organized way.
Update

- Fix minor bugs
- Fix adding notes
- Fixed overlapping notes.

For further queries please contact support@himanshusofttech.com