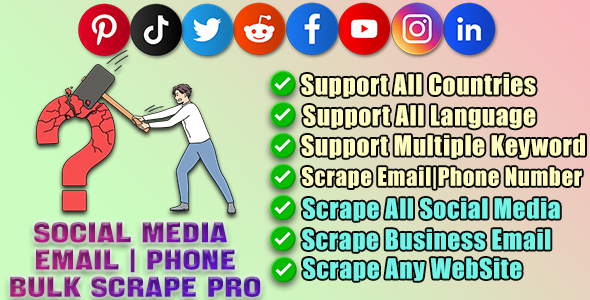 Social Media Emails|Phones|Any Bulk Scrape & Extractor Pro
Social Media Emails|Phones|Any Bulk Scrape & Extractor Pro with Multi-Keywords is a powerful tools to extract emails & phones
from google search results based on your keywords
You can extract emails from a specific website like Linkedin,Facebook,twitter,tiktok,youtube,pinterest,Tumblr or form all websites.
Easily scraper 50,000+ email messages in one hour, helping you quickly increase your customers
Support all countries – you can choose any country you specify
Automatic and uninterrupted crawling of email, phone in any language
✅Extract|Scrape Person Email
✅Extract|Scrape Business Email
✅Extract|Scrape Phone|Tel|Fax|Whatsapp
✅Automatically upgrade chorme driver
✅We always provide Free lifetime updates
Social Media Emails|Phones|Any Bulk Scrape Pro|Social Media Email Extract|Social Media Phone Extract|Email|Phone Scrape
About Sourcecode
About Resell
To facilitate your resell, we provide you with ready-to-use license management tools!
Start your money-making journey now.
Social Media Emails|Phones|Any Bulk Scrape & Extractor Pro-Multiple condition settings
Support search engine country selection
Supports multiple languages
Supports all social networks and any website
Scrape|Extract Person Email |Business Email
How to use multiple languages?
Support Multi-Keywords
Scrape|Extract whatsapp number|tel|fax
Support any website
Amazing Features
100% extract Email|Phone|Tel|Fax|Whatsapp
extract Any website
extract LinkedIn
extract Facebook
extract Instagram
extract Youtube
extract Pinterest
extract Twitter
extract TikTok
extract Tumblr
Scrape|Extract Person Email
Scrape|Extract Business Email
Social media
business extractor
web crawling
extract website data
easiest web scraping tool
extract any country's email|Phone
extract any language email|Phone
Support bulk keywords
Support bulk domain
Generate search tasks in batches no limit
Search web pages in any language
Search for web pages in a specified language
Extract Name,email,Url,Phone
exprot to Excel
Runtime Environment
Support win7 win8 win10 win11 winserver
Review
hi bro, your review gives us unlimited power to update, please don't forget the 5-star review!
Online Support
Update Logs
– V2.0.1 ( 2022/08/12)

  --Add:Automatically update chorme drivers
  --Update:upgrade to latest chrome
 
– V1.0.0 ( 2022/07/08)

  --Add:Initial version