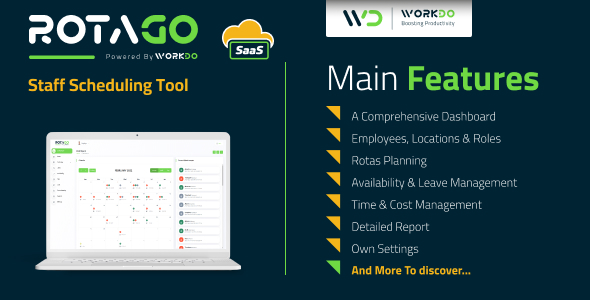 Overview
Managing employees, their availability, shifts, leaves, and rates could become quite overwhelming, especially when you have multiple locations to cater to. Well no more. With RotaGo SaaS, from managing employee details to assigning them shifts and leaves, you can do the needful from one place.
Demo
Url : Demo Link
Login as Super Admin : superadmin@example.com / 1234
Login as Company : company@example.com / 1234
Login as Manager : manager@example.com / 1234
Login as Employee : timon@gmail.com / 123456
What to expect from RotaGo SaaS – Staff Scheduling Tool
Easy to assign employees based on availability preferences
Easy to calculate costs as you get to manage default and custom role wise rates
Perfectly suitable when you have multiple locations and numerous employees to assign shifts to
Extremely feasible management of rotas
Effective leave management and embargoes for smooth workflow
Detailed insightful reports to take timely decisions
Add Break time in rotas
Download reports on the go
Date range picker in print rotas page
Share Rotas with others by unique link, also protect with Password and the expiry date
Slack Integration
Zoom Integration
Telegram Integration
Available in multiple languages. It thereby facilitates global usability
Landing Page On/Off Setting
A user-friendly RTL experience for the customers using Arabic, Hebrew, and Urdu-like languages
Any of the plans' payments can be done using 10 diverse payment gateways namely Stripe, PayPal, Paystack, Flutterwave, Razorpay, Paytm, Mollie, Skrill, Mercado Pago, CoinGate, Paymentwall
Built with Laravel 8
Salient Features of RotaGo SaaS – Staff Scheduling Tool
Create Plans and Make Payment – a special SaaS Feature
With a Super Admin Login, create plans that are most feasible for your business model. Select appropriate pricing and duration for the created plan. Make payment using various payment gateways. The plan would be disabled if not renewed after its expiry.
Company Settings
Employee Databank
Manage every minute detail of an employee through this tab. From personal details to employee details, manage each aspect of basic information here. Employee details include employment type, holiday allowance based on days and hours, weekly hours, and working duration. Additionally, you can assign the roles and location of that particular employee from here.
Further, assign the wages and salary of any particular employee by setting their default and role-wise custom rates. Lastly, determine their working and off days through this tab.
Locations
Create locations and assign concerned employees to specific locations.
Roles
Create roles, color for that role, assign employees, and their default breaks within this setting.
The amalgamated result of all these features can be viewed in a list form within employees' head page in a dashboard form. You can also get an overview of the current month and the total of employees, rotas, and leaves in a tabular form.
Management of Rotas
In a calendar form, you can view assigned rotas to individual employees for any given week. Choose the concerned location and filter the rotas based on availability, leave, and day-offs. Clear the week in case of rescheduling. Edit existing shifts quite easily. By placing a pointer over an employee's name, you can get an overview of contracted hours, hours of work assigned, and hourly cost calculations.
Manage Leaves
View complete data of assigned holidays, used, and remaining leaves of any particular employee. Get a pop-up notification for leave requests that have pending action. Moreover, you can also add employee leaves from your end. Since shift timings of employees would vary, you can select whether to calculate leaves on total record hours or daily hours. Further, create embargoes which means restricting leaves on certain days for certain employees.
Manage Availability
Add the availability pattern of users by simply dragging the cursor through the timeline. Assign the start and end date, with an option to repeat this pattern every week, fortnightly, or monthly. You can also edit the existing availability pattern of a user as and when required.
Detailed Insightful Reports
Get numerous insightful reports based on two general categories, Hours & costs and Time Off and cover. You can generate detailed reports by specifically choosing a user assigned to a specific location and role on any particular date.
Send Rotas to Employee by Mail-In Rotas
The schedule of the shifts can be shared/ informed via emails with/ to each employee individually to whom the roles are given.
Publish/Unpublish Week In Rotas
The schedule of the weekly shifts of the employees can be published/ unpublished. This module is to be managed from the company's side.
Add/Remove Employee In Rotas
Customized settings of adding or removing the employees for scheduling of the shifts can be done with the help of this module.
Add/Remove Day Off In Rotas
Customized settings of adding or removing the day off of the employees for scheduling the shifts can easily be done through a click.
Users can cancel Rotas and Admin can approve/disapprove it
Users as in Companies can cancel any of the Rotas as per the requirements. The right to authenticate and to approve or disapprove the same is with the Admin.
Day View and User view in the dashboard
For easy access to the available information, the changing dashboard views as required have been made easy to view and go through.
Slack Integration
Receiving instant notifications of the company's activities is one of the most painless ways to keep a tap on them. With the help of Slack Integration, you can get insight into the major actions through the specific channels as when they are performed. It also helps you to schedule the messages for future dates. Rectifying mistakes are also not burdensome.
Zoom Integration
Virtual meetings are no new to us. The Zoom Integration provides a platform where you can create a zoom meeting after giving inputs of asked details like; Client, User(s), Meeting Time, Duration, and it generates a link through which people can join the meeting. You can create, View, Start, and Delete meetings with ease.
Along with that, the zoom meeting created, will be synced with the calendar which will show the meeting details, as well as which are the people joining the meeting at what time. This calendar syncing feature helps to schedule meetings accordingly.
Telegram Integration
Hassle-free and instant message is one of the absolute ways to stay in tune and connected with projects and activities of the projects. With the Telegram Integration, you can get the notification of the actions performed regarding anything which interests you. Staying in tune with the performing jobs is smooth with this feature.
Chat Module
Direct Communication is an important aspect of any of the businesses. The easy-to-access and use Chat Module provided in Rota Solution, helps you to be in direct and constant touch with the parties.
Comprehensive Dashboard
The dashboard would offer a monthly calendar view with general details about assigned users and costs incurred on any given day at a specific location. You can filter the details by selecting specific roles or all, based on your needs.
Settings
Dashboard Settings
Manage rota settings as in what aspect of rotas would be accessible to employees. Select the start day of the week and time format. Lastly, you can choose whether or not employees can set their availability preferences.
The Site and Email Settings
All site-related settings as logo, title and footer texts, default languages, and mail-related settings can be adjusted from here. From brand logo to permissions and default settings, control every aspect of this tool from here.
Who can use it?
Hospitals, Medical & Care Providers
Bars, Restaurants & Cafes
Gyms & Fitness Centers
Retail Stores & Supermarkets
Charities, Non-Profits & Volunteers
Cinemas, Theatres & Live Events
Call Centers & Support Staff
Schools & Universities
Emergency workers & first responders
Hospitality, Hotels & Events
Changelog
Here you can see what updates came out and did we bring new to the version. Check Changelog
Support
Please send support request here for any issues, questions or suggestions. To save time and get quick feedback, please don't ask for support in comments section.