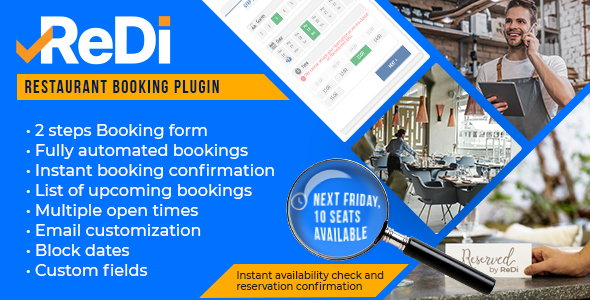 ReDi Restaurant Booking plugin allows you to easily manage reservations for your restaurant business.
Plugin allows you to manage reservations for your restaurant business. This plugin can help to receive reservations from clients online. Your clients will be able to see available space at specified time, and if it's available, client is able to make a table reservation. Initially you need to setup number of persons that can book at one time, working times and restaurant details. Plugin automatically detects free seats and if available reservation is instantly confirmed. There is a possibility to control every incoming reservation as well in manual mode.
Please find complete documentation here:
https://drive.google.com/file/d/0B65PsYk8BovNU3h3MXZDT01tckk/view?usp=sharing

Note: if you see error loading PDF then change your browser settings to open PDF in default PDF viewer application.
Plugin Live demo:
http://demo.redibooking.com
Demo of Mobile friendly version of backoffice:
http://upcoming.reservationdiary.eu/en/Entry2/89a08039-2c68-47c4-978c-3acb3e9989ea
Demo access to back office:
http://backoffice-demo.redibooking.com/wp-admin/admin.php?page=redi-booking
User name: demo
Password: demo
Features:
– 2 steps reservation form
– Confirm reservations automatically or manual
– Manual reservation entries
– Blocked dates
– Time shifts
– Email templates
– Upcoming reservations on your iPad or any Tablet PC
Addons (sold separately):
– Mailchimp integration
– Followup email
– Reminders
– SMS (PushBullet, Twilio, BulkSMS integrations)
– Discounts