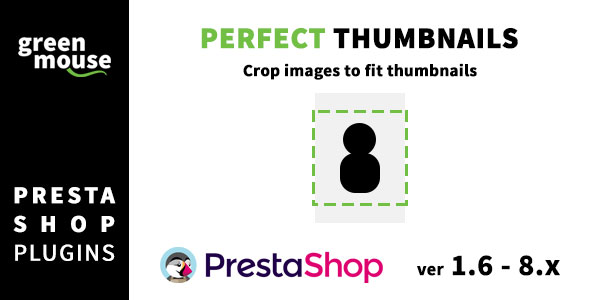 Make your shop look consistent and professional!
If you have images with background or your shop's background is not white, you may not like the default image processing method.
By default, images in Prestashop are filled with additional whitespace.
This module allows you to change that default behaviour to cropping, or keep the proportions of the original image.
You can choose which corner to use for cropping, depening on the type of your image (different cropping will apply for people standing, different for stuff laying on the ground).
You can also choose types of images to crop. For example – only thumbnails used on list or grid, not on product's page.
Crop images
Extract product from background

(requires your hosting to have PHP >= 5.5 and GD library v 2.1.0. Compatible)
Keep original image proportions
(can be used to remove white space around images in thickbox galleries)
Check out the Live preview and Screenshots links above for more details!
Lifetime unlimited updates
No matter when you buy this module, you can always download the latest version even years after your support period has expired. Buy now, before the price goes up, and be able to download the up to date module anytime in the future for free.
Premium support for every purchase
No matter which module you buy from us, we're always happy to give you any support you need to make it running on your shop.
Tired of waitnig days for your tickets to get a response? Not with us. Within our working hours (9 – 17 Central Europe) you'll get an immediate help.
Check out some of the reviews from our many satisfied customers: