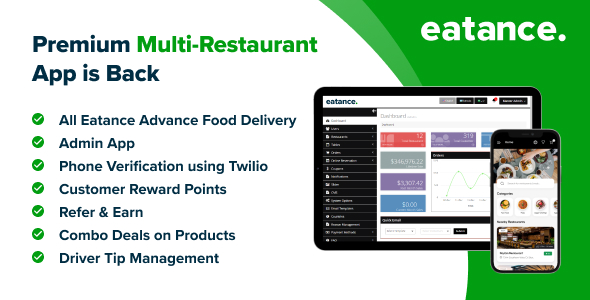 Premium Food Delivery & Multi Restaurant Aggregator Feature Rich Solution
This solution has all the Advance Food Delivery features plus many other lucrative features in one solution. Grab your premium Food Delivery solution with a massive limited period discount.
What will you get with the Bundle?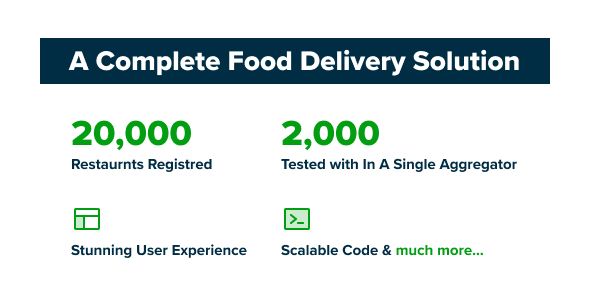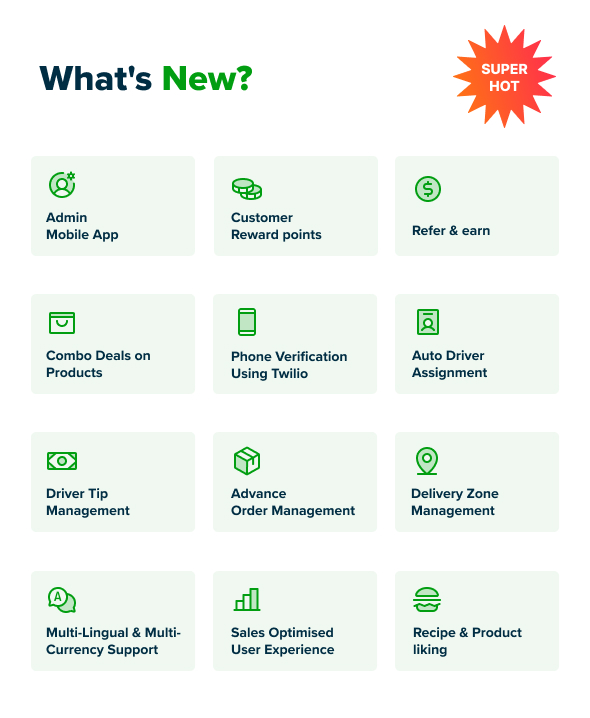 Which Technology stack/Platform is being used?
The Mobile applications are built on the ReactNative platform with Android and iOS. Following is the new technology stack.
Mobile Applications: React Native (V 0.63.4)
Website: HTML, CSS, Bootstrap, PHP 7.4
Backend: PHP CodeIgniter (V3) and MySQL 8
Useful Links:
Step by Step Guide & Developer Help
FAQ (Frequently Asked Question)
Admin Product Video Tour On YouTube
In-Ofice Training Videos On You Tube
Product Demo  
For Demo Credentials please email to paul@evdpl.com
For any assistance, do not hesitate to raise a support ticket here
What Kind of support will you get?
Our support compromise in two types
FREE Support:
Our applications have been thoroughly tested and are being used by many Food startups. We are constantly improving our codebase, new feature enhancements, and Bug fixes. You will get FREE ticketing base helpdesk support till 15 days from the date of purchase. 
PAID Support:
We have twenty plus dedicated technical experts for this product, and we can help you with all following as paid technical support. 
Server Setup
Your own Branding enhancement 
Code deployment and App publishing
New Feature enhancement 
Customization in the existing features
Design and UI changes
Product Training 
Marketing Services &
Design and UI services 
Please raise a support ticket as per your support requirements by clicking here 
For Demo Credentials please email to paul@evdpl.com
Note: All Images that use in products are for demonstration purposes only. However, the person purchasing the application need to replace the demo with their own images. All images are under copyright@evincedev.com.
Change Log:
New Update Released
Added plenty of new features and bugs fixes