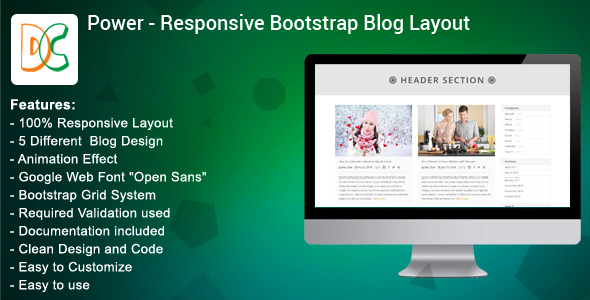 Power – Responsive Bootstrap Blog Layout Design is a HTML/CSS and JavaScript combination with 5 blog layout variations. This is item design Bootstrap framework and it can be used with any eCommerce website or other website template etc. It comes with 5 different type of Blog Layout Design with nice different sidebar, some item have functionality list view, grid view option and mouse over effect styles, different pagination page, Tool-tip tags etc.
Responsive Bootstrap Blog Layout Design is a flexible and high customization to build your custom Bootstrap Responsive blog listing. It is very easy to customize your website and template. you can easily customize and integrated you're bootstrap website and template.
Features
– 5 Blog Different Layout
– 25 Blog Page
– 1 Blog Detail Page
– Bootstrap Framework Use
– 2,3,4 Column Blog Layout
– Different Sidebar Blog Layout
– Grid View Blog Layout
– Multiple Hover State Styles
– Documentation Included
– Clean Design and Code
– Easy to Customize
– Easy to Use
Live Demo URL: Click here
Sources and Credits
I've used the following: Thanks so much to
Font: Google Web Fonts
Open Sans
Fontawsome icon: Free Font Awesome, the iconic font
Images: Pixbay.com
CSS: Bootstrap
jQuery: Javascript
If you have any questions related to this email template, Feel free to email us at mukesh.gehlot019@gmail.com or via our Design Collection page contact form to get further information.
Best wishes
Design Collection