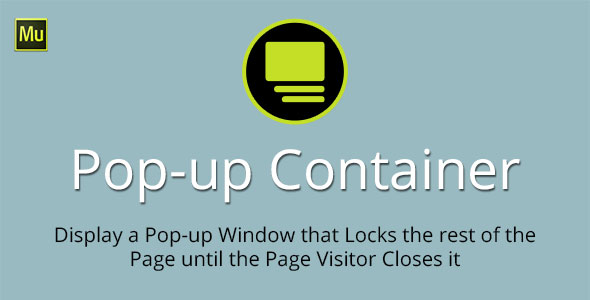 This widget allows you to display a Pop-up window that locks the rest of the page until the page visitor closes it. So it's great for placing promotions, ads or some other important information. The design of the pop-up window can be created directly in Muse, so it will look awesome and will match your website. Just use the provided container as canvas to create the design for your Pop-up window and then adjust various additional options in the widget panel. You can can create any design that you wish for your Pop-up window by placing text, images, videos, shapes, buttons and any other kind of elements into the provided container.
Moreover, Pop-up window can be displayed every time the visitor enters your page or it can be shown only after the certain period of time to the same visitor. So your returning visitors will not be bothered by it. Widget options also allow you to adjust many other settings, such as appear/disappear transition effects, overlay colors, etc.
Instructions: Download the file and double-click it to install the widget into Muse. Every time you want to use the widget, simply drag and drop it from the Library panel in Muse onto your website. You can refer to the widget Help file for some more instructions.
*This widget is also available as part of the Adobe Muse Widgets Bundle.