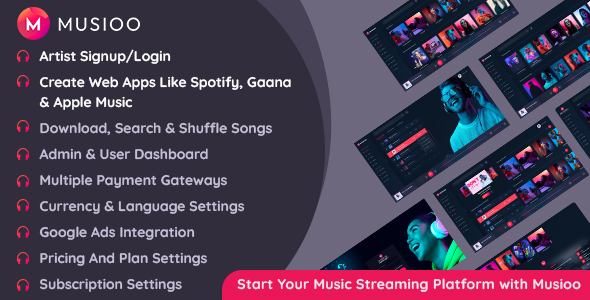 Musioo Music Streaming Platform Laravel Script is suitable for musicians, artists, music bands, music producers, record labels, DJs, producers or anyone working in the music industry. Get the attention your music needs by offering uninterrupted music even when users move from one page to another, with outstanding built- in audio player.
You are a musician, not a web developer so have got it covered for you! Upload your music from full-fledged Admin Dashboard as per particular genre, language under a particular artist and share the music on the go via various social media platforms like Facebook, GitHub, Twitter, Amazon, LinkedIn, Google share.
Try our demo –
Admin:
https://kamleshyadav.com/musioo/login
Username – admin@musioo.com
Password – 123456789
Giving you option to monetize through this platform by setting pricing plans with coupon management system in addition to embedding Google ads, this script has lot to offer. It comes with widely accepted payment gateways like PayPal and Razorpay where you can manage the taxes in invoice settings.
Some standout features like User management, location management, Bulk Downloads, Currency settings and Blog Page makes it a complete package for all music lovers out there.
Please check the Online Documentation for more details of the script.
Features
Easy and quick installation
Responsive Design
User friendly UI built
Admin DashBoard
User DashBoard
Location Management
Pricing And Plan Settings
RazorPay and PayPal Payment Gateways
Invoice Setting
Manage User Profile
Artist Management
Audio Download
Playlists
Audio Genre Settings
Site Settings
Coupon Management
Subscription Settings
Google Ads
Social Share
Currency Setting
Exchange Key Setting
Language Setting
Tax Settings
Blog
FAQ settings
Admin Panel
Can add add audio price
Can verify to the new requested artist
Can view all sales, payment and artist payment request history
Can create artist directly
Can view all notifications related to new payment request,blog comments and audio comments
Manage currency converter while user purchase plan and audio and set USD currency to default
Artist Panel
Registration/Login
Can add songs and songs price
Can add own payment gateways
Can request for payment to admin
Can add own youtube channels id and google api key – shows all channels playlists into single artist page
Can view all sales , payment and payment request history
Can view audio purchase invoice to share purchased users
Updates
latest Version v4.O   Change Log
This Musioo platform has a lot of features that let you listen to music while surfing other pages. The script comes with an Admin Dashboard in order that you'll easily manage users, artist, tracks at single place. Take advantage of this beautiful and enticing music platform to provide your company a strong online presence.