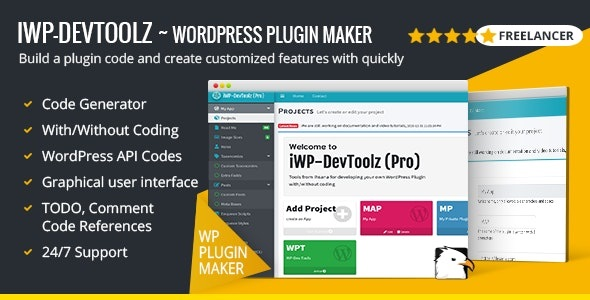 – Version: rev22.07.17
– Last update: 13/07/2022 

Change Log: – July 13, 2022
– Version: rev22.07.17
New features have been added:
– WPBakery Page Builders
– WooCommerce Settings
– Admin Notice
– Admin Pages
– Code Browser
– Elementor Widget Generator
iWP-DevToolz is a WordPress Plugin Maker (stand-alone tools) can build a complete plugin code and also you can develop a WordPress Plugin that customized features very quickly. Like: ReadMe, Image Size, Custom Posts, Custom Fields, Short Codes/TinyMCE Plugin, Custom Taxonomis, Extra Fields, Roles, Enqueue Scripts, Enqueue Styles, Widgets, Plugin Options, Admin Bars, REST-API, WXR File, Elementor Widgets, WPBakery Page Builders, WooCommerce Settings and other.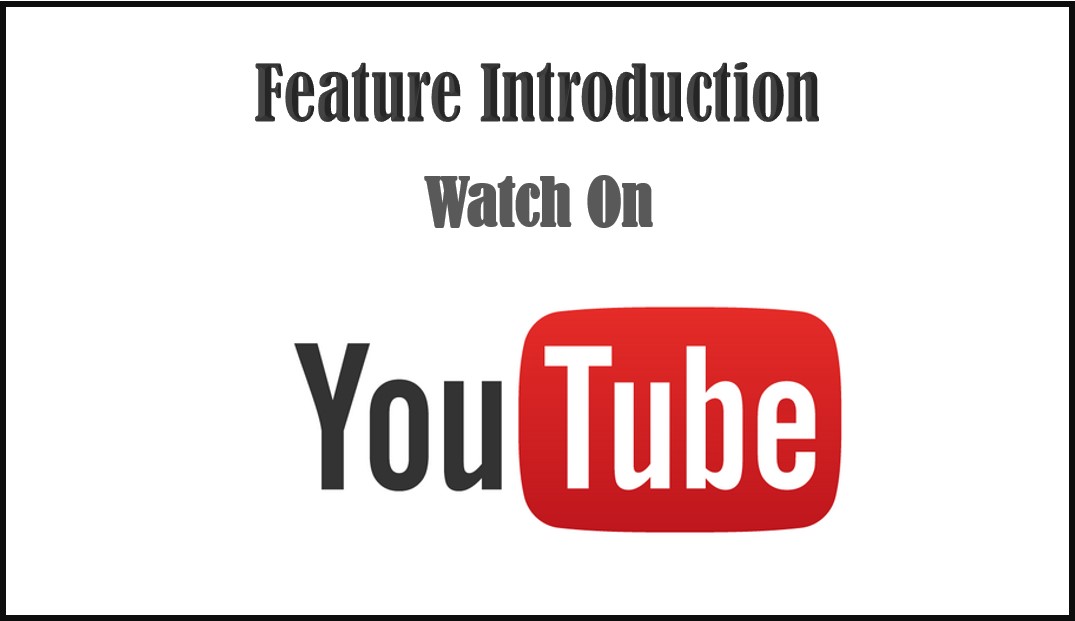 What is the difference with Boilerplate or GenerateWP?
The resulting code is complete, such as: to create input forms such as email, telp, color or standard input, you don't need to write code. or for custom code: you can see the value of a variable using the echo function
The code generated here is based on your project, for example the copyright or variable name is created on your behalf
You can use the generated plugins for your template, for example: your template requires an icon for the category, you can create a plugin for that
There are still many other differences, please see the demo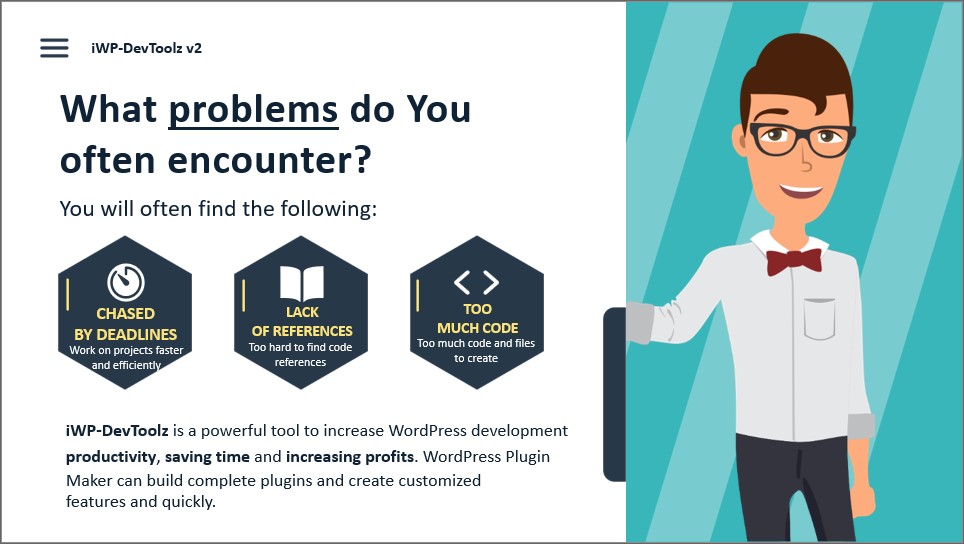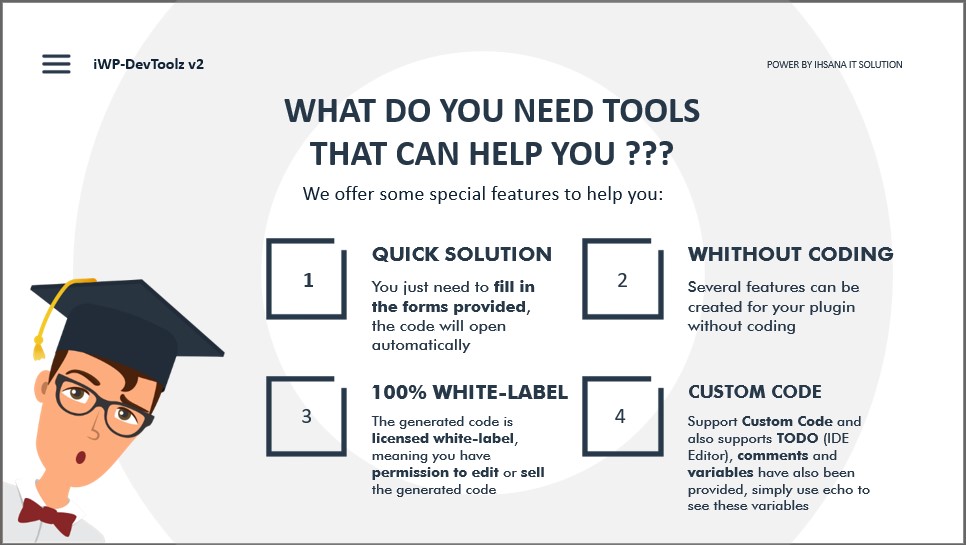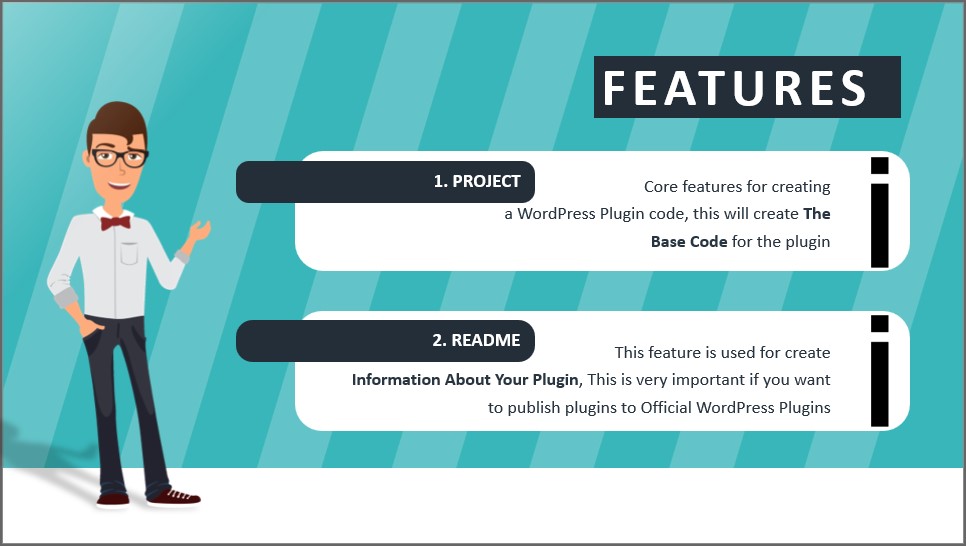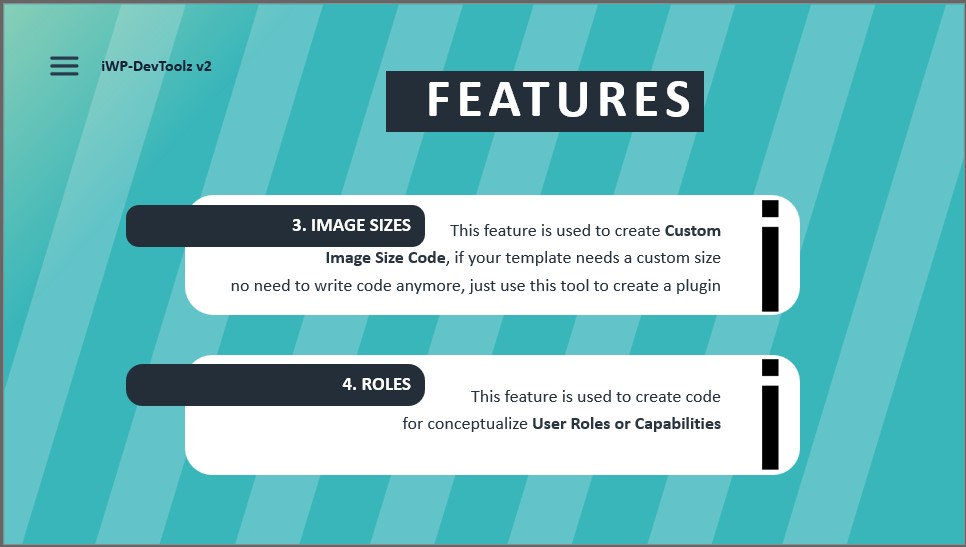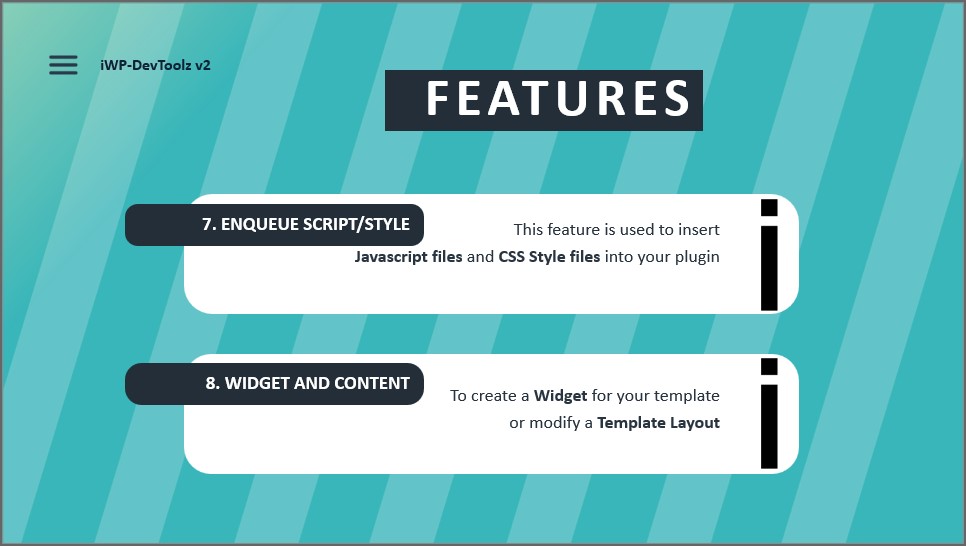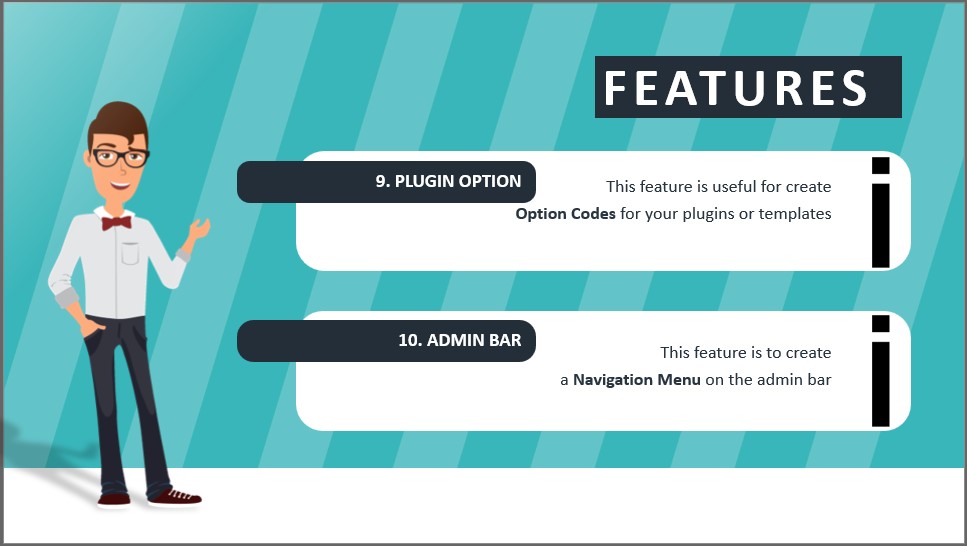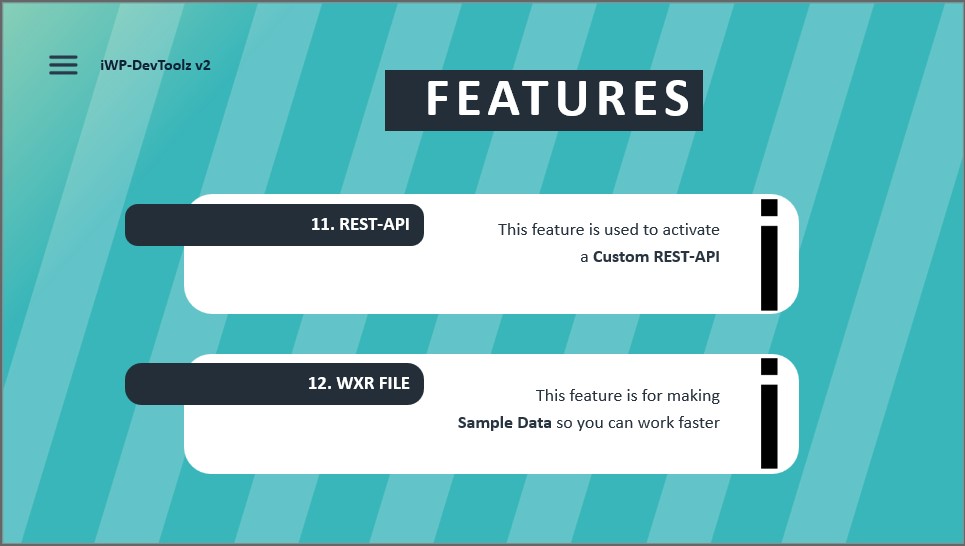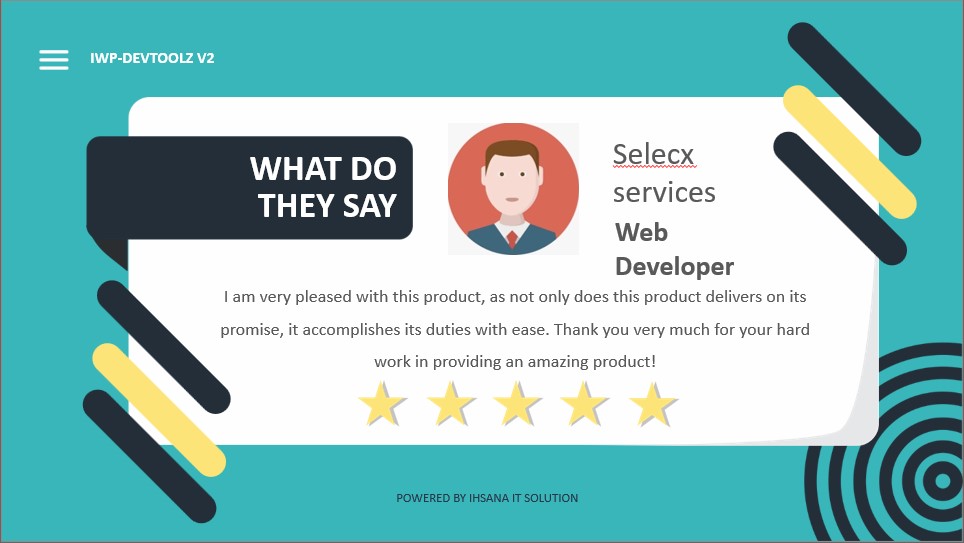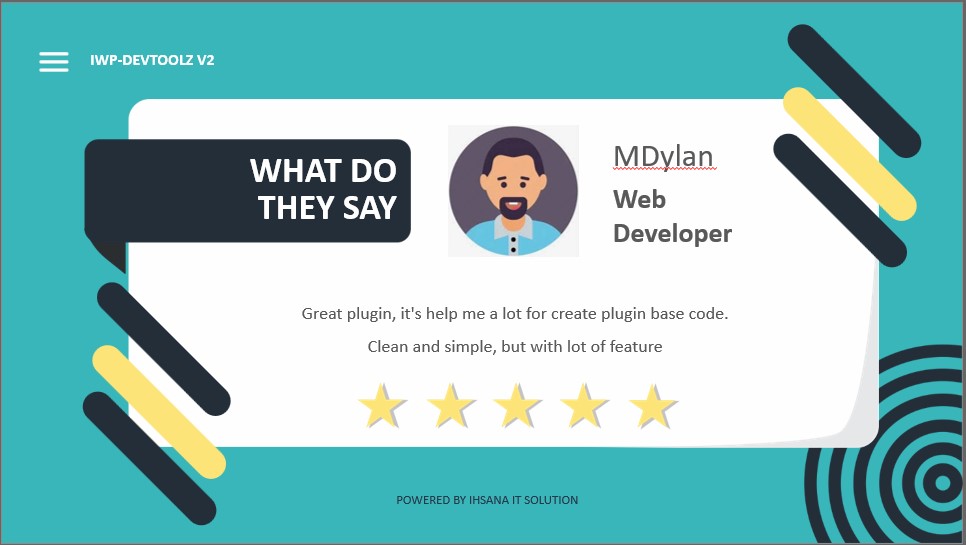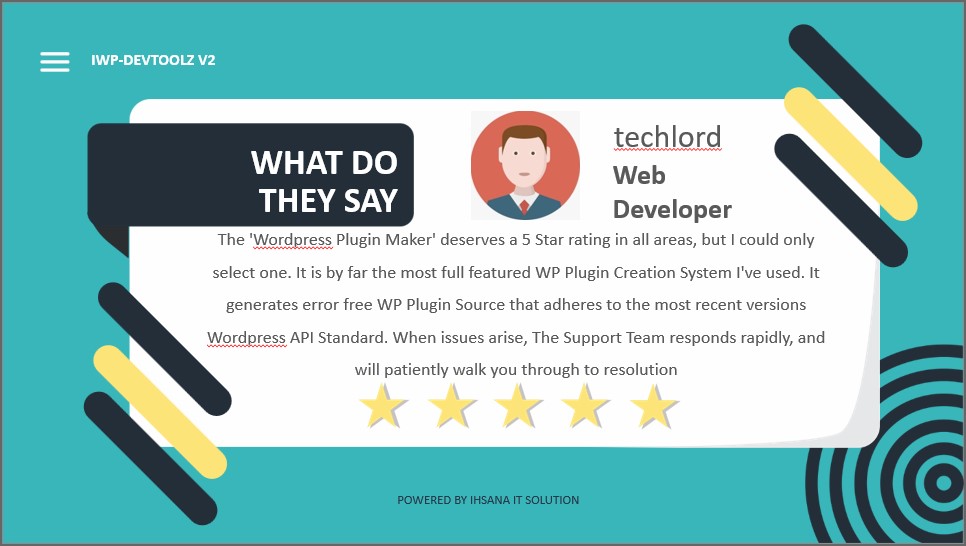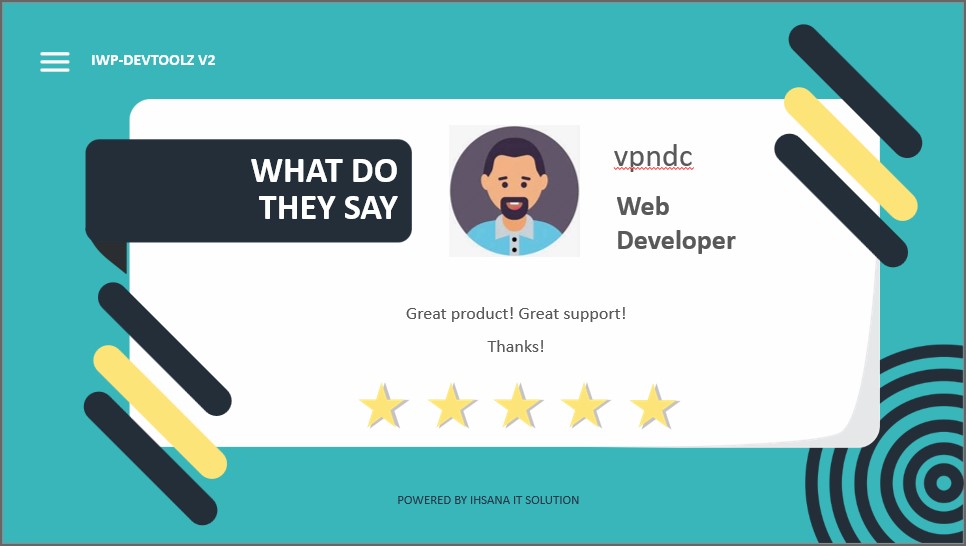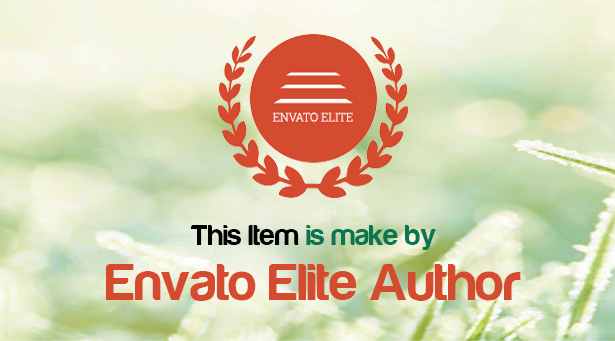 Customer satisfaction is our top priority, don't hesitate to contact us: iwpdev@ihsana.com,, We will try our best to reply within one business day.
Change Log
iWP-DevToolz v2


= rev22.07.17 =
* Improved: (IWP) Taxonomies -> Extra Fields -> WooCommerce Support
* Improved: (IWP) Posts -> Metaboxes (Custom Fields) -> WooCommerce Support
* New features: (IWP) Third Party APIs -> WooCommerce Settings Generator
* Improved: (IWP) Admin Notices
* Improved: (IWP) Appearance -> Contents

= rev22.06.12 =
* Improved: (IWP) Third Party APIs -> WPBakery Page Builders
* Improved: (IWP) Third Party APIs -> Elementor Widgets
* New features: (IWP) Code Browser
* New features: (IWP) Admin Pages

= rev22.05.28 =
* New features: (IWP) Third Party APIs -> Elementor Widgets -> Front-End -> Dump Variables
* Improved: (IWP) Third Party APIs -> Elementor Widgets
* Improved: (IWP) Admin Notices
* Improved: (IWP) Plugin Options
* Improved: (IWP) Appearance -> Contents
* Improved: (IWP) Appearance -> Widgets
* Improved: (IWP) Posts -> Metaboxes (Custom Fields)
* Improved: (IWP) Taxonomies -> Extra Fields
* New features: Project -> Debugger
* Improved: (IWP) Third Party APIs -> Elementor Widgets
* New features: (IWP) Third Party APIs -> WPBakery Page Builders

= rev22.05.08 =
* Improved: (IWP) Ajax Requests and Form Builder
* Improved: (IWP) Third Party APIs -> Elementor Widgets
* New features: (IWP) Admin Notices

= rev22.04.25 =
* Improved: (IWP) Ajax Requests and Form Builder
* Improved: (IWP) Posts-> Short Codes
* New features: (IWP) Ajax Requests -> Custom Fields -> HTML ~ Checkboxes  
* New features: (IWP) Plugin Options -> Field Options -> HTML ~ Checkboxes
* New features : (IWP) Posts -> Metaboxes (Custom Fields) -> HTML ~ Checkboxes
* New features: (IWP) Third Party APIs -> Elementor Widgets -> Add the Scripts Files (Enqueue Script)

= rev22.04.10 =
* New features: (IWP) Third Party APIs -> Elementor Widgets

= rev22.01.20 =
* Improved: (IWP) Ajax Requests and Form Builder

= rev21.12.05 =
* Improved: (IWP) Ajax Requests and Form Builder

= rev21.11.06 =
* Improved: (IWP) Appearance -> Contents
* Improved: (IWP) Appearance -> Widgets
* Improved: (IWP) Posts-> Short Codes
* New Features: (IWP) Ajax Requests and Form Builder

= rev21.08.15 =
* Improved: Project -> Delete
* New features: Built The Project and Download

= rev21.05.17 =
* Improved: Core Modules
* Improved: (IWP) Plugin Options (Fix Option Issue)
* Improved: (IWP) Taxonomies -> Extra Field (Fix Option Issue)
* Improved: (IWP) Posts -> Metaboxes (Custom Fields) (Fix Option Issue)
* Improved: (IWP) Posts -> Short Codes (Fix Option Issue)
* Improved: (IWP) Appearance -> Widgets (Fix Option Issue)
* Improved: (IWP) Appearance -> Contents (Fix Option Issue)

= rev21.05.09 =
* Improved: (IWP) REST-API
* Improved: (IWP) Plugin Options
* Improved: (IWP) Enqueue -> Styles
* Improved: (IWP) Enqueue -> Scripts
* New features: (IWP) Appearance -> Contents
* New features: (IWP) Appearance -> Widgets
* Improved: (IWP) Posts -> Short Codes (TinyMCE)
* Improved: (IWP) Posts -> Metaboxes (Custom Fields)
* Improved: (IWP) Posts -> Custom Posts
* Improved: (IWP) Taxonomies -> Extra Fields
* Improved: (IWP) Taxonomies -> Add to Post Types Option

= rev21.02.09 =
* Improved: (IWP) Short Codes (TinyMCE)
* Improved: Nginx Compatibility