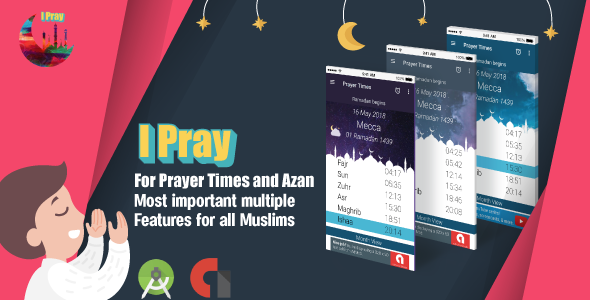 IPRAY For prayer times and azan remind remind users by prayer times throughout the day so as not to forget the performance of the most important pillars of Islam is prayer (Salah Reminder) , including the most needed tools and features for all Muslims .

Prayer Times for all wide world.
Developed with Android Studio & Gradle.
AdMob (banner and interstitial ad).
Ability to add multiple city Prayer Times .
Beautiful Material UI with 5 different designs for each Prayer Times.
Automatic city locator and Prayer Times.
Early Prayer Notification with advanced control for each prayer.
More then 14 Advanced widgets for Prayer timing and powerful tools.
Sahih Al Bukhari Hadithes library.
99 Names of Allah.
15 differents Azan Voices and user ability to chose with .
Duaa After each Prayer Azan with control to switch on or silent mode .
Missed Prayer counter for each Prayer .
Islamic holidays with descriptions .
IPRAY comes with beautiful UI User Interface design , Easy control and good looking ,
With more then 5 different designs fro each Prayer times (Fajer , Zuher , Asur , Magrub , Ashaa ,Nigh )
easy to custmize and change by your owen design

IPRAY allow you flexible control for Prayer Times Notifications with multiple advanced control options for each prayer times (Fajr ,Morning Prayer ,Sun,Zuhr,Asr,Magrhrid,Ishaa) with options (Azan voice selector ,Only vibration mode, Silent mode ,Duaa after prayer ).

More then 14+ advanced widget for flexible control and easy timing monitor ,silent control ,Compass ,with many other tools .
As a example : Islamic Clenader which allows you to identify the dates of Islamic events and occasions, such as the half of Sha'baan and Lilah Rajab, the beginning of the holy months, the night of Isra and Maraj, the month of Ramadan, Eid al-Fitr, the day of Arafah, Eid al-Adha, the beginning of the Hijri year, the birth of the Prophet
And many other occasions, which we hope that Allah bless us and you to give our best acts of worship to Allah
You can disable or to activate the prayer reminder at a certain time, as well as choose the voice of the Azan or alerts, as well as show or hide the prayer times widget
The application also contains the names of the 99 in Arabic and English in addition to the compass to determine the direction of the Qibla as well as the comprehensive Islamic Azkar, including morning and evening Azkar , in addition to the full Sahih Bukhari in English to facilitate the non-Arabic speakers
Also contains an electronic rosary that facilitates you to perform your Ziker in a simple way correctly with the right required number as it is recommend from our master Muhammad peace be upon him
One of the most important features of the application is your missed prayers reminder , through which you can remember your missed prayers that you haven't did in time, That would helps you to remember and perform later and in time
The application also contains an important feature is a widget of prayer times, which makes it easy to know the times of prayer and the time for next Azan with the time remaining for the next prayer
In addition to all the possibilities and previous characteristics, the application is easy to control and in more than 7 languages, scientists can choose between them easily , and you can customize all the special preferences according to your desire, including the amendment of the prayer time or choose the Hijri or Gregorian time