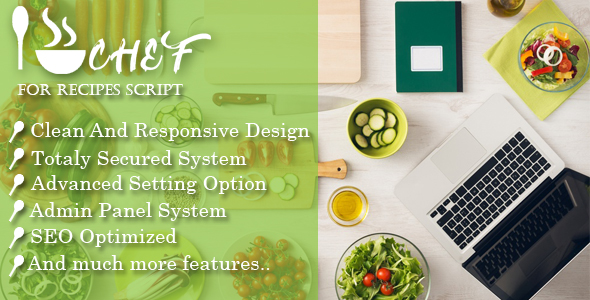 Note: Before buying make sure your server and php version are matching with the system requirements. Read the requirements carefully or You can ask support

I-Chef a powerful platform to manage recipes for food specific websites, that doesn't require any experience on web development, very easy to use and customize

Features
Everything is dynamic (Users, SEO, Contact Info, Social media counters, Blog (Tricks and Trips),Sliders, Categories, Icons, Recipes ) .
Friendly with SEO .
Totally secured system (SQL injection, XSS, CSRF)
Flexible Control Panel .
Easy to setup and usability .
High performance.
Awesome Design
Fully Responsive
Login System, admin panel system with full options
Frontend Contact Form
Create Unlimited Posts for tricks and steps
Create Unlimited recipes and categories
You can add your comments with facebook comments plugin
Admin: can (create, edit, delete)categories with its icons
Admin: can (create, edit, delete) recipes
Admin: can (create, edit, delete) Tricks and Tips
Admin: can (create, edit, delete) Sliders
Admin: can (create, edit, delete) Admins
Admin: can manage website settings such as (website title, contacts data, logo, favicon, timezone, social media accounts, copyrights, SEO settings)
Admin: can manage ADS and select irs location dynamically.
Visitors: can searching for any recipe wih name or its category, can view recipes, categories and tips and tricks
Visitors: can contact with admin with contact form
Visitors: can use newsletter.
Visitors: can share the recipe or the trick post in social media.
SYSTEM
Backend Framework: Built on CodeIgniter version 3
Frontend Framework: Built on Bootstrap 4
Requires PHP 5.6 to 7.2
Supports MySQL, Mysqli.
Supports SMTP Email, PHP Mail()
REQUIREMENTS
Code Editing Software (eg: Dreamweaver, Sublime Text or Notepad
Web Browser for testing (eg: Google Chrome or Mozilla Firefox)
FTP Tool to upload files to Server (eg: FileZilla).
Read documentation carefully to guide you how to install application.