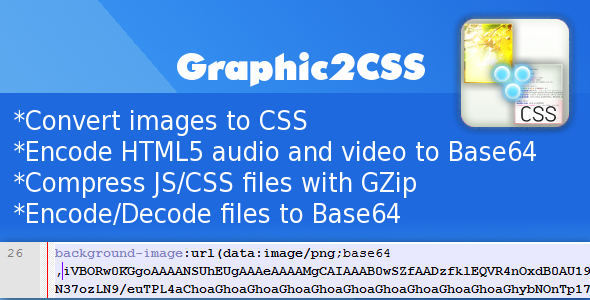 Graphic2CSS – a light tool for converting images into CSS. Images will be encoded into Base64 code supported by all modern browsers. IE8 limits base64 code size up to 32kb.
It helps you to have all small icons and UI control images into one single style sheet and
you can use it for email signatures.
Features
Portable – just a two files and doesn't need to install and neither leaves temporary files or registry entries.
Import folders for batch processing.
Easily set a background color for transparent PNG images to solve transparency problems for ancient web browsers.
Encode/Decode URLs/HEX code/Base64 strings
Encode/Decode any file into Base64 code
Compress JavaScript/CSS with GZip.
Encode HTML5 audio and video to Base64. Generate audio/video tag
snippets.