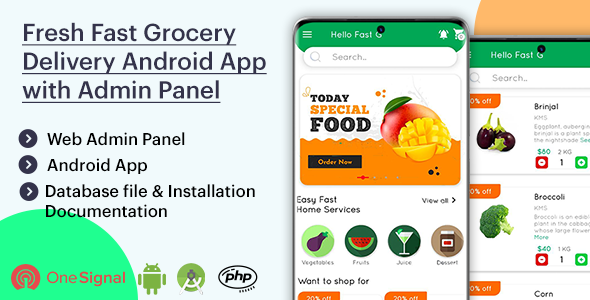 We are ready to guide you the whole installation process within 10 minutes. Is not good and easy? You need to follow documentation
What's included:
– Customer Android App Source Code
– Admin Panel PHP Script Source Code
– Database file & Installation Documentation
Try our apps demo
Direct Download APK | Google Drive Link
Admin Demo Details
Admin URL: http://grocery.cscodetech.com/
User or email: admin
Password: admin@123
App Demo Details
Download APK : Download Now | Google Drive Link
User or email: test@gmail.com
Password: 123
Admin Features
Admin can see the Total Product,Total Area,Total Time-slot,Total Banner,Total Customer,Pending Order,Complete Order,Cancelled Order,Customer Rating,Total Feedback, Total Sales
Admin can create unlimited Categories & Sub Categories
Admin can create unlimited Banner
Admin can create unlimited Time-slot
Admin can create unlimited Area with Delivery Charges
Admin can add/upload/delete Products
Admin can select popular product
Admin can Send Notification
Admin can Create unlimited notification template and add/upload/delete template
Admin can Send Notification once product added
Admin can check customer product rating with Very Good, Good, Not Good
Admin can check feedback with rating
Admin can change currency($,₹,€,£,¥ etc)
Admin can change User/Customer status anytime with active or deactive
Setting for OneSignal API and OTP verification API
Admin can check and update the order status – Complete, Processing, Pending
Fast, Optimized and Powerful admin
Beautiful UI
High Quality
Top quality clean code
Easy configuration
App Features
Easy to Signup & Sign in
Sign in with Mobile number/Email
Profile Update
Product Details
Cart
Checkout
Notifications
User Profile
User Orders
Feedback
Share App
Contact
About
Privacy Policy
Address
Checkout
Notification & Notification Details
Forget Password with Mobile OTP verification
User can choice multiple payment options Cash on delivery, Pickup Myself, Pay with Online(Razorpay)
User can choice date and time slot
User can check the order details status Complete, Processing, Pending and history of orders
User can Rate a Product Delivery Review
Easy and Understand Design
Unique and Beautiful UI
What they say about our Apps ?
Be Aware : We do not sell any of our items outside the envato market
Change Log – New version 1.2 – June 11, 2020
– API improvement & Security
Change Log – New version 1.1 – April 30, 2020
– Product Detail
– Categories with Sub Categories
– Notification Update
– Currency Change with Admin Panel(Setting)
– Share App
– Home
– Admin UI improvement.
Change Log – new version 1.0 – April 21, 2020
– Version: 1.1
– Last update: 21/04/2020
– Bug fix



Source