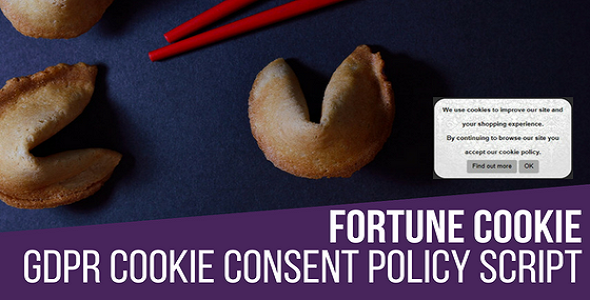 Fortune Cookie Consent Policy Script is a powerful tool to make your website 100% compliant with regulations that apply to cookie usage, worldwide. Simply by warning the user that your website uses cookies, will make your website compliant with regulations. Our intuitive, easy-to-use system allows you to create a warning message (in form of a popup or a panel bar – with fully customizable position) which will warn your users that your site uses cookies.
An easy way to add cookie consent warning to your website!

Fortune Cookie Consent Policy Script is a tool to notify visitors that your website uses cookies, in a very pleasant and not disturbing way. You can choose to transmit this message to your visitors with care not to annoy, lock out or erroneously notify visitors, or contrary, to disable some features of your website, until they do not accept cookies! All you have to do is to configure the Script as you like, and the warning message is created and ready to be added to your web site. In fact, for most people, the configuration phase takes less than 5 minutes. Our script includes many features to help you effectively add to your website cookie policy compliance.
These include the following features:
+ Compatible with every current and announced cookie law (EU GDPR), wordwide.
+ Most feature rich 'Cookie Consent Policy' javascript script on the market!
+ Option to define the cookie life-time, after which the user will be propted again with the popup policy popup
+ Custom CSS support
+ Automatic Google Translate support
+ Responsive design, fully mobile compatible
+ Lifetime updates and support.
+ Optimized for speed – no speed impact
+ Fully customizable popup message, appearance (includind font, colors, background, border, buttons, links, transparency, custom images, and many others).
+ You can chose from two animations styles for popup closing: slide up/down or fade out.
+ Full modern browser support – Google Chrome, Firefox, IE, Edge, Opera, Safari
+ Useful for a wide range of websites, including: blogs, subscription sites, single sites and others
+ Fully customizable display modes: top bar, bottom bar, right/left top popup, right/left bottom popup or popup centered on the screen. You can also customize the position and size of the notification, so the positioning possibilities are endless.
+ Option to fade the notice background, until the notice is shown – to make it more visible
+ Option to automatically hide popup after a preset delay
+ Lifetime updates and support.
Need support?
Please check our knowledge base, it may have the answer to your question or a solution for your issue. If not, just email me at support@coderevolution.ro and I will respond as soon as I can.
Changelog:
Version 1.0 Release Date 2016-11-20
First version released!
Version 1.1 Release Date 2016-11-23
Remove forgotten page refresh when user accepts cookies.
Version 1.2 Release Date 2017-02-16
Added a CSS file
Version 1.3 Release Date 2017-09-01
Added automatic Google Translate support
Version 1.4 Release Date 2018-02-15
Bugfixes
Version 1.5 Release Date 2019-04-19
Added "use strict"; to code
PS: If you would need this script for WordPress, check out the WordPress version of Fortune Cookie Consent Policy! Or, even better, check out their 'big brother' – Legalize – Privacy Policy / Terms of Service Generator and EU Cookie Law Popup Plugin which adds to your site not only a cookie popup, but also automatically generated Privacy Policy and Terms of Service pages!
Are you already a customer?
If you already bought this and you have tried it out, please contact me in the item's comment section and give me feedback, so I can make it a better script!



Do you like our work and want more of it? Check out this plugin bundle!