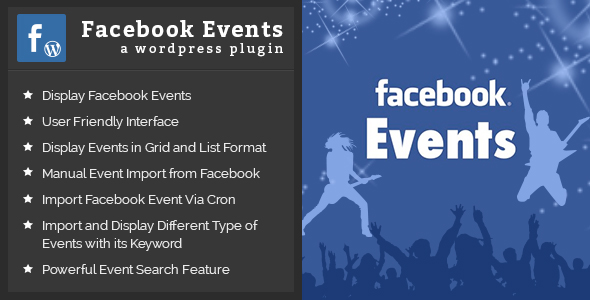 Introduction : Facebook Event Plugin: Import All Events to Your WP Website Effortlessly
Have you been struggling to add all the important Facebook events to your WordPress website. With Facebook Event Plugin from theem'on, doing so will not be a problem anymore. This WP plugin searches for the events manually as well as automatically and imports them to your website without any hassle. This plugin can be installed with great ease and it integrates with your existing website seamlessly.
Have a look at the feature set of the Facebook Event Plugin
App Access Token: You need to generate the App Access Token in order to search and import the Facebook events to your WordPress website. You can import the events only after specifying the app access token in the setting page.
Time Zone: You can choose the time zone for which you wish to search and import the event. Filtering of events on the basis of timezone works for both manual and cron import of the event.
Short Code: These short-codes need to be pasted where you wish your imported events to be displayed on the front-end.
Awesome ways to import Facebook events
Manual Event Import: As the name suggest, using this option the events can be imported manually to the website.
Search by Event id: You need to mention the event id and import the events that match the id.
Search by Keyword: You also have the option to search for the event by entering the keywords.
Cron Import: Cron Import lets you manage automatic import of the events. You can enter the keyword/event ids, set the time interval(hourly, daily, weekly & monthy) and the plugin will look for the events based on the information provided by you. If an event matches, it will first check whether it has been already added. If not, the events will be imported.
All the imported events are visible in the FB events page in the backend. To display them on the front-end, you just need to add the shortcode for the events on any page of the website from the backend.
Apart from these features, there are other exciting features too. You can own this theme and explore all its feature in their full glory.
Updates:
Version 2.0.0 – 31 July 2019

--Fixed Access Token issue
--Compatible with WordPress version 5.2.2

Version 1.0.1 – 06 May 2019

- Calendar View Added
- WPML Support added

Version 1.0.0 – 17 April 2016
- Published on ThemeForest
Awesome Friendly Support:
theem'on is handling technical support for this FaceBook Events Plugin. So, in case, you have any query related to this best of the best , Feel free to drop a mail to us at support@theemon.com or contact us via ThemeForest.net user page contact form.