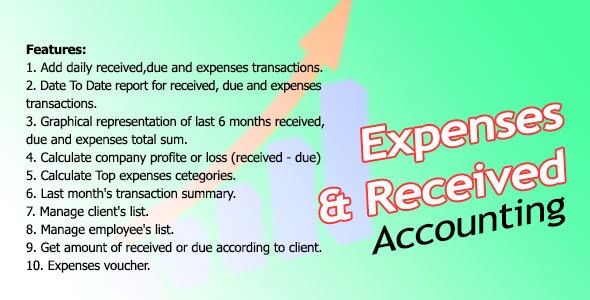 Drs Expenses & Received Management System is an application to manage account received , due and daily expenses.
Features
Add daily received,due and expenses transactions.
Date To Date report for received , due and expenses transactions.
Graphical representation of last 6 months received , due and expenses total sum.
Calculate company profite or loss (received – due)
Calculate Top expenses cetegories.
Last month's transaction summary.
Manage client's list.
Manage employee's list.
Get amount of received or due according to client.
Dashboard
VERSION 1.7

Change Log
VERSION 1.6

Change Log

All image validation added , image size should be < 1mb and mimType (jpg,png)
Walk-in-way customer transaction searching report added.
All amount input validation added.
Design small bug fixed.
In expense entry Receipt image insert option added.
Minimize project size.
Customize code.
Reduce database unnecessary size.
VERSION 1.5

Change Log

Language change option added.
VERSION 1.4

Change Log

Expenses voucher print option added .
PDF added for single view.
Company information option added.
VERSION 1.3

Change Log

Login page material design.
Expenses amount field validation add (only accept positive number)
Error message hide bug fixed.
VERSION 1.2

Change Log

Currency added.
Added image for clients and for users
Updated for PHP 7.
Date field added in transaction input.
VERSION 1.1

Change Log

CSV export report added.
Partial due amount receive option added.
Report for partial due payment transactions.
Client total balance add in client table.
For Demo Login Please Use