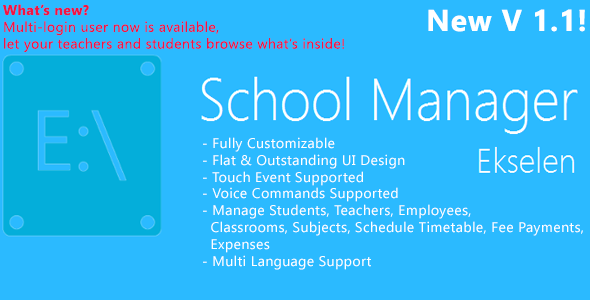 Ekselen – School Management System
Ekselen is a desktop school management system, Ekselen offer great features for all type of educational institutions such as management for students, classrooms, subjects, timetable schedule, fee payments, expenses, employees, teachers and much more. With an outstanding GUI, support for Touch Events and Voice Commands, Ekselen is the only desktop school management you need in your school.
Features
Touch Event Support
Ekselen taking advantages of technology, make it possible for you to manage information in your institution anyway you like, using any components of your devices, no limitation.


Touch here, touch there, no limitation for accessing Ekselen. Ekselen even embedded with sliding panel, to make you feel Ekselen is really interacting with you all the time.

Voice Command Support
Who say only smartphones that can respond to your command? So do Ekselen! even integrated with your system. But make sure your microphone is on, don't let Ekselen unable to hear what you say. Ekselen always have feedback for every command you say. Fun right. One day, a shiny day, Ekselen white background was so bright.

So I said to Ekselen, "Too shiny, can you change to orange?", "Sure do, sir" It replied. Voila! It changes to orange.

What else Ekselen can recognize? Helping you processing your data, just say "add new student" the new student screen will appear and you can choose either you use your keyboard or the touch keyboard on your screen, hold on a sec. Just say it and it will typed itself into the corresponding field. No way, yes. Feel free to explore, word such as "open touch keyboard", "back to menu", everything you wanna do with Ekselen can be done this way.

Responsive?
Of course it is responsive, any screen size you used there won't be any changes happen to Ekselen. It stays the way it stands.
Update History
Version 1.1 – June 14, 2014

- Added multi-login feature for students and teachers.


- Fixed minor bugs from previous version.

Version 1.0 – February 13, 2014

 - Initial release

Entities
Administrator
Manage Students Class/Group wise
Add / Edit / Delete Student
View Profile of Student
Manage teacher profile
Add / edit / delete teacher information
Create / edit / delete class / group for students.
Create / edit / delete subjects here from subject menu
Subjects can be defined seperately according to each classes
Manage class routine
Create / edit / delete class routine schedule on 7days a week
Manage payment for student
Create / edit / delete invoice listing
View invoice and print them
Edit system settings
Manage language of the software
Create your own language and convert the language phrases easily
Create backup and restore anytime
Generate reports
Principal
View students report
View financial report
View class schedule
View Teacher Information
Teacher
View students information
View class schedule
Student
View students information
View class schedule
Pay tuition
Support
Please contact me via email from my Profile regarding support or pre-sale questions for any purchase of my items.