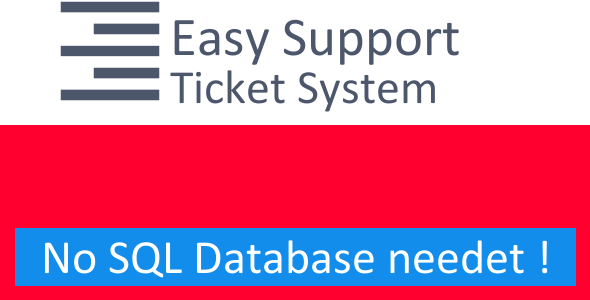 Ticket Support System
A lightweight, portable PHP Ticket Support System
HTML5 powered Help Desk System. Let customers send their questions or support-tickets to you by an easy system. Use Templates so it is full customizable.
WHAT'S NEW?
This Script is totaly new build up from scratch!
Hand picked — New Features
LIKE WHAT YOU SEE?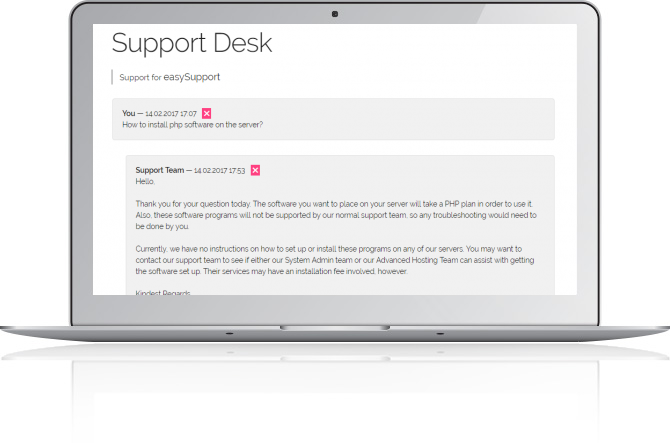 WHAT IS IT?
No installation, no database needed and less configuration
It packs all needed features in a very small package
It's very easy to use
Fully Responsive, works perfect on mobile, tablet and PC
2 Designs (one comes with 4 CSS skins as a bonus) to choose from
Running lightning fast
Only one admin is needet
Admin can delete ticket posts
Users & Admin can view their present ticket
Easy to use form for users, makes it painless to create new tickets
Translatable, language in the i18n files can be changed easily
Frontend Features – For Users
• Your customers can easy add their contact details and ticket
• When a new message is submitted, the system sends mail to recipients

Backend Features – For Admins
• Admins can add posts and delete tickets
• Settings: Admins can set the admin password, site template, site title and site e-mail.
• Easily create your own templates without any knowledge of PHP


KEY-FEATURES
User & Admin eMail is generated automatically once a ticket is created
BBCode support is another optional feature
Built in Captcha to keep out bots and spam
Save text building blocks for Admin-Answers
Attachment & Lightbox Support (Define the allowed data types yourself)
Modern: Responsive, Bootstrap, jQuery
Comes in some handy PHP files and some Config Files
Manual file is included in Download
… and many more! Just try our Demo to view all Features
and view full Release Notes at the End of this Page

WHAT MY AMAZING CUSTOMERS THINK
SIMPLE SETUP
Edit the details in "config.php" in the "easySupport" folder for your needs and preferences
hange the read-write permissions of "data" folder to 777
Upload all files to your server in the "easySupport" folder you've specified on you webspace
Visit your address e.g. www.example.com/easySupport/ to start you script
That's it… You are ready to start!!
REQUIREMENTS
PHP 4 or > is all you need!

HOSTING
This script does not make any use of special functions, so it will work in nearly every server environment. In case of any problems with specific hostings let me know immediately!
SUPPORT
If you run into problems please give me not a bad rate, please take a look at the documentation of the script. If you need more help, be free to contact me via the support tab. I will do everything so that my product deserves a 5 star rating! All updates are included. Remember that the script will be updated regularly.
Thank you very much.
Best Regards, adilbo

DEVELOPER
Do you want to customize my script as you want? Just purchase the Extended License and shoot me a message from my profile page to let me know how you're using it. Thanks!
HINT
Please take a look at my other scripts on codecanyon.net
CHANGELOG
Version 1.0 (03.2017)
    NEW -  Release of this Script on CodeCanyon