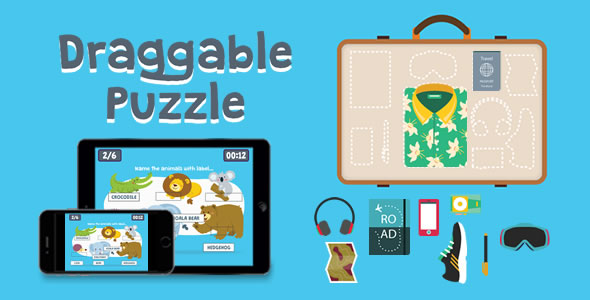 Draggable Puzzle is a HTML5 puzzle game that allows you to manipulate objects on the screen and fit them in their associated slots.
The ZIP package contains the game with 1280×768 resolution that scales to fit the whole screen device, but it may not be perfectly full screen.
List of types of games:

Build-In Editor Tool:
The game come with Build-In Editor tool, you can build and preview puzzle easily with the tool.

Add-ons:


This game is compatible with Scoreboard for HTML5 Games, it is a add-ons page where user can submit score and view top 10 leaderboard. You can get it here.
Features:
Puzzles can be change easily (Settings, Image Assets)
Edit draggable objects with build-in edit tools
Option to set draggable objects start from random or fixed position
Option to set gravity
Complete customization (Text Display, Images)
Basic options (Enter FullScreen, Mute Sound, Exit Game)
Share Score (Facebook, Twitter, Whatsapp)
High Definition (1280×768)
Auto-Resize (Responsive)
Mouse and Touch Controls
Run in all platforms (Mobile, PC, etc.)
Browser not support page
Mobile rotate instruction (For Landscape Only)
Make with CreateJS

Version 1.8
- Add-on script integrated

Version 1.7:
- Added settings option
- Option to disable share option
- Update Google to Whatsapp share

Version 1.6:
- Fixed Build-in Editor object drag issues

Version 1.5:
- Fixed Build-in Editor issues

Version 1.4:
- Build-in Editor Tool UI improvements

Version 1.3:
- Fixed build-in Tools output array

Version 1.2:
- Fixed audio not playing in Chrome browser

Version 1.1:
- Fixed iOS Safari fullscreen