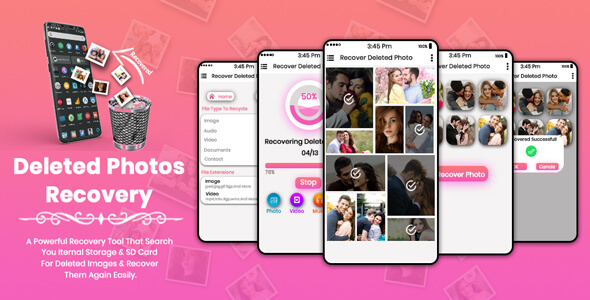 Deleted Photo Recovery & Restore Deleted Photos is a best photo recovery application that allows you to recover deleted photos, Recovery app: restore deleted pictures & restore images will search your mobile storage to locate and recover deleted photos and your photos from being deleted. lost. After scanning, Deleted Photo Recovery & Restore Deleted Photos will recover images easily.
A powerful Recovery tool to Scan and Search your internal storage and SD card for deleted images and recover them. Sometimes you accidentally deleted or lost your photos and then you want to recover them back but unfortunately, the Android operating system is not giving you a facility to undelete your lost pictures.
Recover all my deleted file is a very powerful application that can backup or restore all applications and a few other things on your phone installed. Biggest issue for use is recover deleted data on android. Now resolve this issue by phone recovery app which will recover photos of your phone if it is reset. Contact recovery can restore your deleted contacts from your internal phone database and restore them in the original contact thread, without any prior backup, no pc needed.
✔How to use deleted photo recovery app:
✧After installing and opening the application, it will start scanning your phone directories and sub directories looking for deleted or erased pictures and add them to its list.
✧This operation can consume time depending on your storage size and your phone's performance.
✧Just after that a new interface with deleted photos previews will show up, all photo are divided by folders.
✧You can choose each one separately and start looking inside it and restore your images from there.
✔Highlights:
⋆ Effortlessly backup your Android apps, media files & more
⋆ Instantly retrieve important files, photos, images and videos
⋆ Restore accidentally deleted pictures
⋆ It's free!
⋆ No internet connection required
⋆ No need to root your device
⋆ Custom themes & designs*
Deleted Photo Recovery: – With this Photo & Video Restore or Photo Video Recovery you can do Image Recovery or Photo Recovery with ease. Image Restore or Photo Recovery has never been this easy and user friendly.
What you get:-
——-———-———-———
1. Full Source code.
2. Design in screenshot.
3. Documentation.
4. demo apk
Requirements:-
——-———-———-———
1) Android
2) android studio(Build in 3.5.3)
3) android phone (OS 4.0.3 later)
4) phone and tablet support
5) android (Development language)
Advertisement in application:-
——-———-———-———-———
1) Admob ADS
2) Facebook ADS