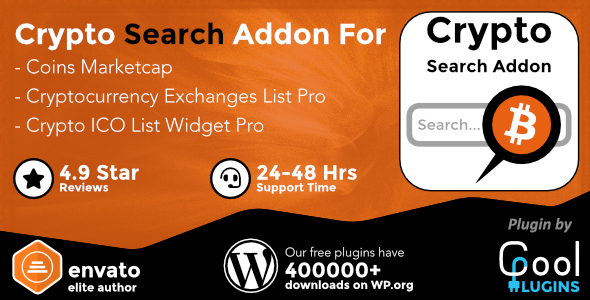 Cryptocurrency Search Addon For Best Crypto Plugins
Cryptocurrency search addon provides ajax based combined search functionality for advanced crypto plugins launced by CoolPlugins.net. If you install this crypto search addon along with any of below 3 crypto plugins, you can add advanced search box anywhere inside your WordPress website via simple shortcode.
Search 2000+ Coins, 200+ Crypto Exchanges & 4000+ ICOs
You can use this crypto addon either with 1 or all three crypto plugins mentioned above. It will show an advanced combined ajax based search results of ICOs, exchanges and crypto coins based on your search keyword.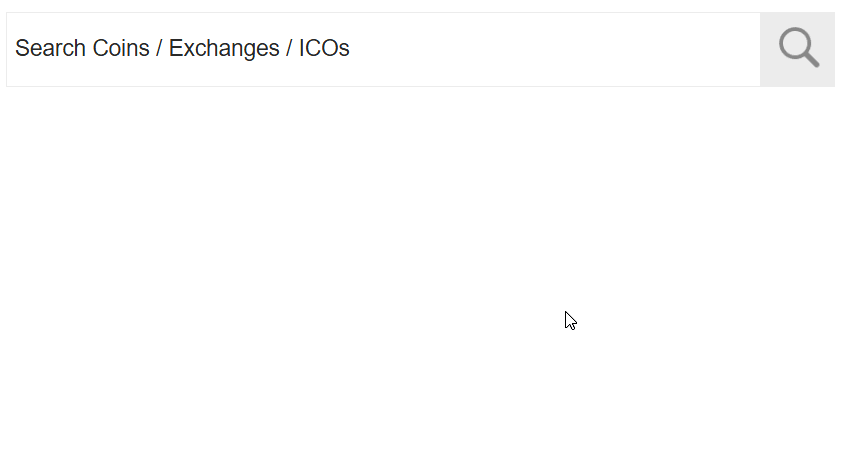 Crypto Search Addon – Shortcode
[ccsa ico-source="both" layout="medium" search-icon="true" placeholder="Search Coins / Exchanges / ICOs" coins-label="Coins" exchanges-label="Exchanges" ico-label="ICOs"  search-for="icos,exchanges,coins"]
ico-source = both / api / local (Show icos in search from API, local or both places.)
layout = small / medium / large (Search box size adjustments.)
search-icon = true / false (Show search icon in search box.)
placeholder = Any text here… (Default text to show inside search box.)
coins-label = Any text here… (Title to show above coins suggestion.)
exchanges-label = Any text here… (Title to show above exchanges suggestion.)
ico-label = Any text here… (Title to show above ICOs suggestion in ajax search.)
search-for = icos,exchanges,coins (Search filters)
Changelog
Version 1.4 | 09/03/2021
Improved: Search query response.
Fixed: Search not working for coins.
Fixed: 500 (Internal Server Error).

Version 1.3 | 04/08/2020
Improved: Browser cache for faster reload.
Improved: Initialized only when required.
Improved: Search query response layout.
Improved: Translation in various languages.
Fixed: Incorrect message in case no results found.
Fixed: Minor CSS issues.
Fixed: Webpage freeze issues.
Version 1.2 | 25/11/2019
Fixed: wrong coin logos
Version 1.1
Initial Release