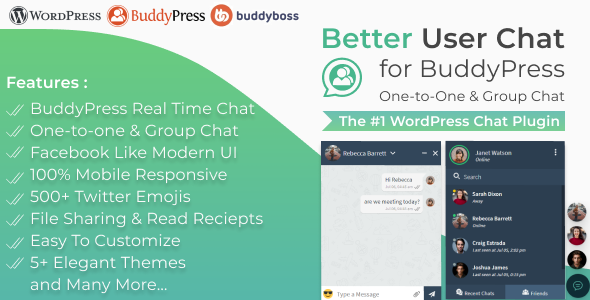 Better User Chat for BuddyPress is a new and refreshing user chat module for BuddyPress. Better User Chat for BuddyPress is built to make your website's chat look and behave like Facebook's chat. BUC is fast, intuitive, engaging, and visually appealing. It makes your site's users' chat looks similar to that of any major social network.
With our powerful customization panel, you would be able to set up an ideal chat module for your site in a matter of seconds.

A chat widget your user will Love
A modern 2020-ish chat widget, which is as beautiful as functional. We have taken care of the tiny details of the UI to ensure a smoother experience for your site user. Oh, and we tested it with all popular themes out there so we know it will look great on your site too.
Group Chat – Common chatroom for multiple users
With groups, your site users will be able to share text and images with multiple people at the same time. Everyone can see each other's messages and respond to all others at once.
Emojis – The global form of expression
Sometime's words are just not enough to express the feelings. The statement without our facial expression could be taken otherwise. Let your users clear the confusion and be as expressive as they are in real-life.
File Sharing – A picture is worth a thousand words.
Images are the heart and soul of a social network. Imaging Facebook without memes? Oh, it would be such a boring place to be.
A large part of our brian is dedicated for image processing. Our brain can recognize a familiar object in just 100 milli-seconds. That makes images so important to us. That's why having the ability to share images makes such an important feature for a chat plugin.
Sound Alert – No missing of important messages.
Browsers have multiple tabs and everyone's a multi-tasker. With the sound alerts you don't need to constantly keep checking the chat window for new messages. You will be notified when you receive a new message. Makes lifes so much easier.
Chat status control – Let others know when it's (not) okay to message you.
Want others to know you are open for chat? Want others to know you are busy with something and they shouldn't bother you unnecessary. We got you covered with 4 status modes – Online, Away, Busy, Offline.
It is you who is in control.
As the site admin, you have the ability to customize the chat widget as per your requirements.
Support
We are always there to answer you questions
Demo
Click on this link to head over to our demo BuddyPress site and use any of these credentials to login:
| | |
| --- | --- |
| user:sarah | pass:sarah |
| user:craig | pass:craig |
| user:janet | pass:janet |
| user:rebecca | pass:rebecca |
Customer's Feedback
Changelogs:

# Version 1.4.3 | 2021-04-03
* [new] Clear conversation option added
* [fix] Button click issue on mobile fixed

# Version 1.4.2 | 2020-10-19
 * [fix] Safari browser date issue
 * [fix] Minor Imporovements

# Version 1.4.1 | 2020-09-14
 * [new] Translation Ready

# Version 1.4.0 | 2020-09-08
 * [new] Linkify
 * [new] Lighbox
 * [fix] Minor UI Imporovements

# Version 1.3.0 | 2020-08-27
 * [new] Group chat added
 * [new] Custom notification sound added
 * [new] Custom friend list using filter
 * [update] Imporoved performance using AJAX long polling method  
 * [fix] Better Mobile Responsiveness

# Version 1.2.0 | 2020-07-24
 * [new] Allow chat with any user in the site (Non-friends)
 * [fix] Better Mobile Responsiveness 

# Version 1.1.0 | 2020-07-13
 * [new] Reply-to-message feature
 * [new] Setting for widget default state
 * [fix] Firefox scroll bug
 * [fix] Firefox date issue
 * [fix] Better Mobile Responsiveness 

# Version 1.0.0 | 2020-07-07
 * [new] Initial release
        
Credits: