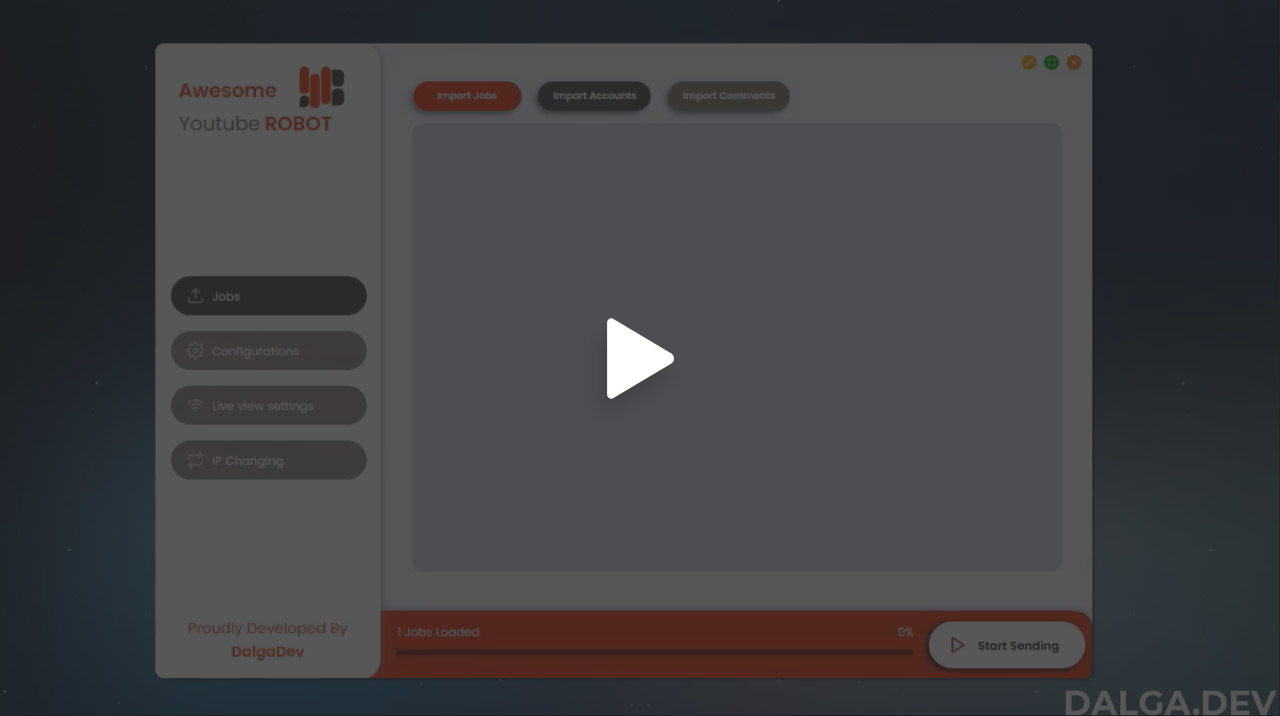 What exactly is Awesome Youtube Robot?
This is the latest tech on the traffic sending market, which can shed some serious light on your Youtube videos and channels. It can send thousands of Human IPs to your videos and boost the likes and comments, and views most tactfully, using random activities at all times, making it impossible for youtube to identify as a bot.
A fantastic tool for Boosting youtube views, likes, and comments,
If you feel lost in the youtube world due to the lack of growth of your stats, worry no more; we are here to bring the spotlight to you.
 It can also be appointed to watch the ads and has the ability to push the skip ad button if need be. What's even more remarkable is that it'll do random activities just so that youtube wouldn't spot it as a bot.
You may ask yourself, "What's the procedure here?"  
The core of the app uses different user agents and stimulates separate devices. You can give it emails to import to lower the drop rates of the views and use various methods to remain undetected.
Then you may ask, "How do you get different IPs?"
It happens through three different methods:
First, by importing proxy into the app (the app can also scrape different free proxies from the internet). In addition to the first general way of getting IPs, our team has developed two very unique ways of doing this job :
The second is generating IP by using your phone network service. 
Third, generate IP through the ADSL modem automatically without the need for proxy or resetting the modem!
unique IP changing methods have been explained in detail down below : 
AYB has 3 different and unique methods for IP generating, The first one is BRIDGE MODE. For using this method, you must connect to the internet by LAN cable and a broadband connection. Your modem should be in the bridge mode/PPPOE for using this robot as well. ( you can change the mode of your modem – if it supports it.) – Orange routers are Unsupported

The second method is 3G/4G/5G PHONE's INTERNET. For using this method, you will need an android phone with a sim-card internet! That's it! The bot will use your phone's internet to change your computer's IP! The bot has a smart built-in tool to help you through configuring the mobile to use with your computer.

The third method is using Fritzbox routers (usually this modem gets used in Europe/Germany). We specially developed a new way for Fritzbox routers and that feature is available since 2021/02/13. if you have a fritzbox router, today is your lucky day! You don't need to put your fritzbox on PPPoE mode, etc. You can also use the frtizbox without connecting through a LAN cable.

Features 

Increasing views of your youtube videos 

Increasing the count of likes (importing gmail accounts needed) 

Clearing the browser's cache after completing the job 

Spoofing the real browsers fingerprints

Simulating different devices with different screen resolutions and updated user-agents

Increasing your comments (importing gmail accounts needed)

Increasing your Subscription (importing gmail accounts needed)

Increasing the view of live videos

ADS are blocked by default to prevent misusing and legal issues. You can turn off the ads blocking by your responsibility if you want.

It can use your Gmail accounts to lower the views drop rate

It can do random activities to make it undetectable for youtube 

It can import your list of proxies

It can scrape free proxies from all over the net

It can generate IPs using phone network services 

It can create IPs using ADSL modems (PPPoE Mode)

 And above all, it is capable of MultiThreading!
– Please note that you have to import Gmail accounts to the bot for sending views, comments, likes, and subscriptions. Gmail accounts should be high quality and active. New Gmail accounts & inactive ones most likely will be detected by youtube. If you don't have high-quality Gmail accounts, we'll start offering them soon.
UPDATE: Due to the last changes of the youtube counting system, you'll need to import Gmail accounts to be able to perform views. This section may get updated there's any further updates. Technically, you can send unlimited views (with different IPs) by using 1 Gmail account. However, if you import more Gmail accounts, it will have better effects on ranking.
– – We STRONGLY suggest you not use the bot on the videos that have Monetizing program enabled. This can also get legal consequences for you. DalgaDev doesn't accept any responsibility for this. The app is mainly developed to help your videos – that don't have monetizing programs enabled – get ranked.
– – – The license key that you'll receive will be lifetime and will only support 3 devices.
– – – – This product isn't a "source code", You'll get an Executable file and it only runs on windows
FAQ
How do I set it up?
Easy. Just with a few clicks, and our support is almost there for you. We set up AYB for you – after preparing the requirements – without any extra charge (only for one device). Please use one of the ways to contact us to set up the software if you're facing at any problem in setting up.
Can I run this Windows Server (RDP)?
Of course, you can! However, if you want to use the unique IP generation methods, you must meet the requirements.
What does MultiThreading mean?
Means having two or three bots running for you simultaneously instead of just one. Which, in terms of speed, it provides a tremendous amount of value. 
For example, you may have one hundred videos to like, and every like would happen in one second. This normally takes 100 seconds, But you can increase the threads to 3 and reduce the time needed to one-third of the original period and get the task done in almost 30 seconds. (You can use up to 500 threads !)
Do you save our data into your servers?
No, there is only an update server, and it can't Save/Store/Upload any of your data, including your history, account information, etc.
Can Awesome Youtube Robot work 24/7?
It's a robot, and there is a reason for its popularity. It can run 24/7/365.
Customization
If you needed customization or wished for an ability related that was not included in the app, kindly tell us about it through email, and we'll be sure to fix it.
Who can use this software?
Everyone, Especially if you're in the field of SEO or you are a Youtuber looking to boost your stats, this bot is your holy grail of a solution. The perfect bot to take a big chunk of work off your shoulders. We'd love for you to give it a shot and let us know what you think.
if you didn't find the answer to your question, please check out this FAQ page. We covered most asked questions there.
https://dalga.dev/faq/awesome-youtube-bot/
Requirements:
1. Net Framework 4.7.2 or upper
2. Latest version of Google Chrome
3. Windows 8.1, 10,11 / Windows Server 2012 R2 and above
4. 8192 MB RAM or upper. ( Recommended +8GB)
5. 4Cores – 2000 MgHz CPU or upper
if you want to use the unique IP generation methods:
6. For bridge mode method: LAN cable and the internet which you connected to it by bridge mode and a PPPoE (broadband) connection ( we taught you how to do these settings in the instruction. no worries! ) – Orange routers are Unsupported – Dynamic IP needed
7. For mobile Internet method: Android phone with a sim card that has an internet data package activated.
Contact Us: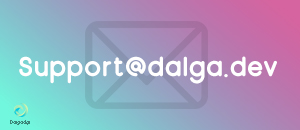 Change Logs:
– V1.2.5 (2022/08/22)
Campaigns! are arrived, You can now do multiple tasks in the same browser! View multiple videos, like them, comment on them just in one session.
Bug fixes and improvements
– V1.2.5 (2022/06/28)
Bug fixes and improvements
– V1.2.4 ( 2022/06/03)
NEW: Job based threading. Two different configurations have been added for threading feature. Now, you can do different jobs by using 1 IP (can save much more time)
EHANCEMENT:The bot will not like previously liked videos
EHANCEMENT: Core of the bot has been redesigned. Expect new interesting features!
Bug fixes and improvements
– V1.2.3 ( 2022/04/08)
NEW: A new form for handling proxies have been added.
NEW: Added testing feature for proxies.
EHANCEMENT: Logging into Gmail accounts had some new fixes to detect whether the account is logged in or not
EHANCEMENT: Performance have been improved. Jobs are being handled better than ever.
Bug fixes and improvements
– V1.2.2 ( 2022/02/14)
NEW: Now you can edit the jobs by clicking the "Edit" option in the jobs menu
EHANCEMENT: Logging into Gmail accounts
Bug fixes and improvements
– V1.2.1 ( 2022/01/22)
Bug fixes and improvements
– V1.2.0 ( 2022/01/21)
You can manage the accounts stored in the database, You don't have to load the accounts each time anymore
Random Activity added to all eligible Jobs
Random acts includes:
1.Interact with trending/short/recommended videos before your job
2.Interact with the videos from your keyword(s) before your job
3.Like/Dislike video when interacting
You can set playback speed and quality for the regular view
Updated Live view mechanism
You can specify the view sources yourself
Added view from Google Search
The bot can like comments
Live view accepts proxies with authentication
Bug fixes and many minor improvements
– V1.1.0 ( 2021/11/13)
NEW: Switched To Firefox browser
NEW: You can see the imported gmail accounts and delete them when necessary
NEW: Embedded youtube videos playing support (Specially twitter & reddit). Just add the Twitter/reddit/etc. post url which is have your youtube video included.
NEW: Logging into the gmail accounts now supports entering the recovery email. Separate the email by "|". user:pass|recovery email
ENHANCEMENT: Browsers' andti-dection has been improved like usual!
ENHANCEMENT: Proxies as well as gmail accounts (and other settings) getting saved automatically. So, next time that you run the bot, the settings & proxies & gmail accounts will be remembered! No need to import them again.
Bug fixes & performance & UI improvements.
– V1.0.6 ( 2021/09/16)
NEW: From now on, settings and jobs are getting saved. You won't need to add jobs each time you close/open the bot
NEW: Loop feature is added. You can enable it if you want the bot to restart the jobs queue after the last job is ended
ENHANCEMENT: Browsers' andti-dection has been improved.
Bug fixes and performance improvements.
– V1.0.5 ( 2021/08/23)
ENHANCEMENT: Spoofing the real browsers' fingerprints
ENHANCEMENT: From now on, you can use any version of the android phone for android mode
Minor bug fixes and improvements
– V1.0.4 ( 2021/07/15)
NEW: A GUI added for comments and Jobs section.
ENHANCEMENT: Blocking advertisements more precisely
ENHANCEMENT:Auto cleaning the junk files generated by the app
multi-threading issues solved
Minor bug fixes and improvements
– V1.0.3 ( 2021/07/06)
NEW: Added a new way to send views to Youtube to make it more realistic.
NEW: Added a user-friendly design to add jobs and comments
Bug fixes and improvements
– V1.0.2 ( 2021/06/25)
Bug fixes
– V1.0.1 ( 2021/06/15)
The bot blocks youtube ads by default.
Bugs fixes and improvements
– V1.0.0 ( 2021/06/09)
The AYB lunched!
If you have any questions regarding any aspects of the bot, don't hesitate to contact our team; as always, we look forward to hearing from you.