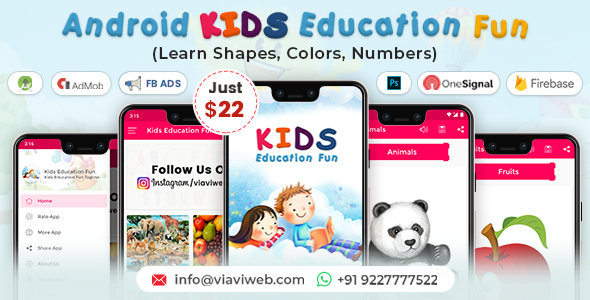 This app is specially designed for kids above one year old. While playing the game, the kids could improve
their understanding of the world, identify various Basic Knowledge tools and improve pronunciation.
Your kids will learn Animal, Numbers, Colors, Shapes and much more.Children who can identify letters and know
letter sounds when entering kindergarten will be prepared to learn how to sound out words and read.
Teach your babies with fun.you can make your own application.
Features
Six types category
Auto play option
Sound increase or decrease option
You can flip pages by swipe gesture
You can flip pages by swiping next or previous button
Kids education fun with sounds and images
Share and save images
RTL support (Right To Left)
All device combability
Latest navigation view
Latest ui with material design
Check network availability
Rate App, more app and share app links
Admob integrated with banner and interstitial ads
Facebook integrated with banner and interstitial ads
OneSignal Push Notification
Android studio code with latest version Arctic Fox | 2020.3.1 Patch 3
What You Get:
Full Android Source Code
Android Package hierarchy (that tells which class is used for what)
Full Document with Screen Shot
Change Log
11-December-2021

- Bug fixed
- SDK update
- Document updated
- Facebook ads updated to admob bidding

11-March-2021

- Bug Fixed
- Documentation update
- Dark and Light theme option
- Facebook banner and interstitial ad

17-August-2019

- Remove Google Analytics
- Add Social media link

12-June-2018

- GDPR policy added in application
- Documentation Update

10-Apr-2018

- Google Analytics Added
- Bug Fixed

26-Oct-2017

- UI updated
- Bug fixed

13-Aug-2015

- Compatible With Android Studio.