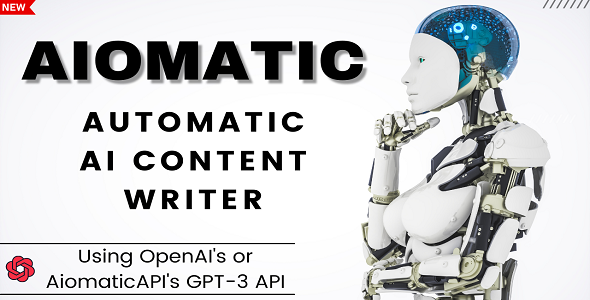 #1 WordPress Plugin to Create High Quality AI Content
Welcome to a new level of AI generated content
The AIomatic plugin will allow you to publish new posts with AI generated or to update old posts with fresh content relevant to the article or post.

You can tell the AI to write negative or positive product reviews, dialogs between different persons, commentaries on events, articles relevant to the title of a specific post and many many more. The limits are beyond your imagination!
Create new engaging content for blog readers or simply spice up older posts with new AI generated content. The choice is yours!
In the latest plugin update, a fully customizable AI chatbot will also be available to use on the front end or the back end of your site. Check below for details!
What Can You Do With This Plugin?
AIomatic is a breaking edge AI content writer plugin that is ideal for auto blogging and automatical post publishing or updating.
It uses AiomaticAPI's or OpenAI's GPT-3 AI engine to turn your website into a auto blogging or even a money making machine! You can freely select between AiomaticAPI or OpenAI and subscribe to the API of your choice, the plugin will work with both!
As you have the option to set the plugin to work directly with OpenAI, you will not be required to pay third parties for their services to funnel the content generated by OpenAI's GPT-3 model to your site! Using this plugin, you can get the content directly from OpenAI, thus lowering the price of each call, comparative with other similar plugins, which use their own pricing monthly fees, from which they also pay OpenAI in your name, but also withhold their profit.
However, if OpenAI is not working for you, you can subscribe to AiomaticAPI, which is an API specially created for this plugin, which will also handle AI content creation for you, in the same way as OpenAI would be doing.
More about AI Generated Content?
In a world filled with technological advancement, it is only a matter of time before the art of creation can be replicated through the use of artificial intelligence.
AI was first developed in 1955 by Allen Newell and Herbert A. Simon through the creation of an AI program called "Logic Theorist".

AI was originally used to do mindless tasks as a way to increase efficiency but after years of experimentation, the technology has reached a stage in which it can perform highly complex tasks that were once exclusive to the human mind.

With the development of artificial intelligence, mankind has managed to outsource meaningless tasks to machine learning in order to simplify life as we know it.
Overall AI has managed to ease our computer or phone software, helped in the studies of numerous fields such as medicine, agriculture and space exploration but as we slowly hit a standstill on those fronts, more people are curious of how far this technology can truly go.

AI generated content challenges the status quo by questioning the relationship between art and human touch.
The content we consume only contains meaning due to the connections and emotions we feel.
Most important plugin features:
v1.1.0 update: Added the ability to add a chatbot to the front end of your site, which can be pretrained with your own data, so it will respond to users in a way which you prefer. AI chatbot was added also to the playground backend of the plugin. Check this tutorial video for details.
v1.0.9 update: Added a playground functionality to the plugin, where you will be able to generate your own AI content based on prompts, edit your text using AI or to create your own AI generated images. Check this tutorial video for details.
v1.0.7 update: Added the ability to rewrite published post content using AI. You can edit the content in any way you can imagine, just add the right prompt in the 'Instructions to Send For the AI Content Editor' settings field in the plugin's 'AI Content Editor' menu. Possible use cases to modify published text: translate, paraphrase or spin, grammar correct, summarize and even more!
Using OpenAI's or AiomaticAPI's GPT-3 engine (use the API of your choice)
Add a list of post titles and a command for the AI and the plugin will generate a series of posts for your site matching your requirements
Automatically add AI generated content to the beginning or end of published posts to your website – the added content will be relevant to the original content of the published post
Add a shortcode to posts or pages [aiomatic-article] – which will be able to create AI generated content for them and append it to the existing content of the articles. A Gutenberg block alternative will also be available for this purpose
Always create unique and relevant content, great SEO value!
Customizable generated post status (published, draft, pending, private, trash)
Automatically generate post categories or tags from title or content
Manually add post categories or tags to items
Generate post or page or any other custom post type
Automatically generate a featured image for the post, scraped from royalty free image sources, like Pixabay, Pexels, MorgueFile or Flickr
Enable/disable comments, pingbacks or trackbacks for the generated post
Customize post title and content (with the included wide variety of relevant post shortcodes)
'Keyword Replacer Tool' – It's purpose is to define keywords that are substituted automatically with your affiliate links, anywhere they appear in the content of your site. For example, you can define a keyword 'codecanyon' and have it substituted by a link to http://www.codecanyon.net/?ref=user_name anywhere it appears in your site's content.
'Random Sentence Generator Tool' (relevant sentences – as you define them)
Detailed plugin activity logging
Scheduled rule runs
Testing this plugin
You can see the results generated by the plugin using the 'Front End Demo of AIomatic'. Here you can check some articles generated by the plugin, using the blog posts from my site as an inspiration source: .
You can test the plugin's functionality using the 'Test Site Generator'. Here you can try the plugin's full functionality. Note that the generated testing blog will be deleted automatically after 24 hours.
Need support?
Please check our knowledge base, it may have the answer to your question or a solution for your issue. If not, just email me at support@coderevolution.ro and I will respond as soon as I can.
Changelog:
Version 1.0 Release Date 2022-07-25
First version released!
Version 1.0.1 Release Date 2022-10-09
Major new features added to the plugin:
- Scrape "People Also Asked" questions and add them to the content as related headings
- Add related royalty free images to the content based on keywords from the AI generated content
- Add a related YouTube video to the end of the AI generated content
Added a new parameter for the [aiomatic-article] shortcode: static_content - when it is set to "on", the shortcode will be fully replace with the AI generated content
Version 1.0.2 Release Date 2022-10-20
New ability to append and prepend AI generated content with your own HTML content (spintax and multiple shortcodes supported)
New shortcodes for appending and prepending text: %%random_imageplugins%% and %%random_videoplugins%%
Added the ability to use Google Image Search (with Creative Commons flag set) as a royalty free image source
Version 1.0.3 Release Date 2022-11-13
Added the ability to create AI generated images and add them to the AI generated textual content
New shortcode [aiomatic-image] to generate an AI image
Ability to set AI generated featured images for posts at publish time
Version 1.0.4 Release Date 2022-11-29
Added a new high quality OpenAI GPT-3 model to the plugin: text-davinci-003, which will work similar to text-davinci-002, but will provide superior content quality
Version 1.0.5 Release Date 2022-12-07
Created and added support in the plugin for AiomaticAPI (aiomaticapi.com), which will provide an alternative API for OpenAI's API for generating AI text and images
Version 1.0.6 Release Date 2022-12-09
Added support for AI generated post title creation
Version 1.0.7 Release Date 2022-12-18
Added support for content rewriting and modifying using AI
Improved content quality of AI writer, when long content is generated also containing HTML markup
Version 1.0.8 Release Date 2022-12-23
Added the ability to edit post title and content using different prompts (using the automatic AI text editor)
Calls to AiomaticAPI now use POST requests
Version 1.0.9 Release Date 2023-01-11
Added playground capability to the backend of the plugin to generated text or images and to edit text
Added new shortcodes: 
- [aiomatic-text-completion-form] to add a form similar to OpenAI's Text Completion Playground, to generate AI written text based on prompts.
- [aiomatic-text-editing-form] to add a form similar to OpenAI's Playground, to generate AI written text based on prompts.
- [aiomatic-image-generator-form] to add a form to generate AI images based on prompts.
Version 1.1.0 Release Date 2023-01-12
Added new shortcodes: 
- [aiomatic-chat-form] to add a form similar to ChatGPT (however, please note that this chat is NOT ChatGPT, it is a custom chatbot built on top of OpenAI API.
Added playground for the new chat feature
Are you already a customer?
If you already bought this and you have tried it out, please contact me in the item's comment section and give me feedback, so I can make it a better WordPress plugin!

WordPress 6.1 and PHP 8.1 Tested!




Do you like our work and want more of it? Check out this plugin bundle!